Team Lakedale!
We're incredibly fortunate to have an amazing team here at Lakedale. Most of them have been with us for over 10 years! You'll meet some of the team when you're here at the resort and may glimpse others at work behind the scenes. Together, they create that indescribable Lakedale "magic." Keep scrolling to get to know them a little better, and be sure to say hello next time you visit! 
Karl, General Manager
Karl is our go-to guy for all things, and the buck stops with him. He's been at Lakedale since 2012 and joined us after a five-year stint as General Manager of Kenwood Inn and Spa in Sonoma, CA. While at Kenwood, Karl's dedication and attention to detail led the boutique inn to earn a score of 100% in the service category by Conde Nast Traveler readers. Karl has worked all over the country during his 40-year-plus career (do we dare age him that much?!) He started at the famous Pump Room in Chicago as a dishwasher and had notable stints in San Francisco as a General Manager with The Kimpton Group, and as a Director of Food and Beverage for both Holland America in Yukon, Alaska, as well as the W Seattle for its opening in 1999.  
In his free time, Karl sings and plays drums and keyboards with his band "The San Juan Island Allstar Band." Karl also loves adventuring with his wife Mary Ann (see below for more about Mary Ann), their children, and their four grandkids. He loves to be out on his Harley, and he's an avid swimmer, so don't be surprised if you see him cruising the roads of San Juan Island, or going for a morning swim in one of our three lakes. There's nowhere that Karl would rather be than in the Pacific Northwest, and we're so glad to have him at the helm of the Lakedale ship!
Richard, Operations Director
Richard makes sure everything at Lakedale runs smoothly. He also makes everything fun! From his charming blog series about our quiet season projects and annual events to his ability to get our small, feathered mascot, Commodore Steve, to land on his shoulder, Richard brings a lot of joy to our 82 acres! Richard has been in the hospitality industry since 2001, doing his thing on both coasts and a few places in between. We nabbed him from Lincoln City, Oregon back in 2012, which makes it more than a decade that Richard has been with us here at Lakedale.  
When Richard is not writing witty blogs or interacting with the wildlife around the property, you might find him painting miniatures for board games, or struggling to play the guitar poorly.
Mary Ann, Director of Edibles / Store Supervisor/ Purchasing
 
Not only do guests rave about Mary Ann's famous granola long after they leave, but they also wax poetic on all of the adventures she guided them through during their stay at Lakedale. Mary Ann is the person who helps all Lakedale guests go home with memories for a lifetime! She oversees all of our Food and Beverage operations, our two shops on the property—The General Store and the Little Shop in the Lodge—as well as all of the general purchasing for Lakedale.
Mary Ann loves arts and crafts. She can make literally anything, out of literally anything, and she also loves adventuring with her husband (Karl), their kids, and their four grandkids: Karden, Hudson, Jackson, and Kali.
Carla
,
Group Event Sales Coordinator
 
Carla will make sure that not only your stay, but any large get-together that you're planning, goes off without a hitch, especially if you're getting hitched! From corporate off-site retreats to dreamy weddings, she's all in the details, so you don't have to be. And! She's a total pro because she's been doing all of this for Lakedale since 2014. Carla spends a ton of time at our Front Desk as well, so be sure to say hello the next time you're at Lakedale. She's a mother to a 5-year-old daughter who loves soccer, t-ball, and swimming, so "free time" is a myth for her, but when she does get a moment to relax, Carla loves board games over wine! 
Kelly, Campground Supervisor
Since 2012, Kelly has kept our Campground and Glampground—which includes everything from RV Sites and Campsites to Canvas Cabins and Cottages—clean, organized, and looking amazing. He's also responsible for all of the landscaping, and with an 82-acre property covered in trees and grass surrounded by lakes, that's no small task. Kelly is an absolute rockstar and we are so grateful to have him on our team. When Kelly isn't at Lakedale making it look awesome, and ensuring that our guests are "happy campers," he's probably out on the golf course, playing a board game inside or playing a yard game outside. You name the game…he's good at it!
Errol, Maintenance Supervisor 
Errol is our head of maintenance at Lakedale. If it's in need of fixing, he gets it fixed! If something looks like it might become a challenge, he takes care of it. Any time we have a new project, improvement, or accommodation construction idea, you can find Errol right smack in the middle of it—as he has been since 2012. Lakedale looks and feels as great as it does because of Errol and his team's commitment to quick, quality work. If Errol is not at Lakedale, you'll likely find him with a cold beer in his hand, cheering for the Seahawks. 
Marta, Housekeeping Lead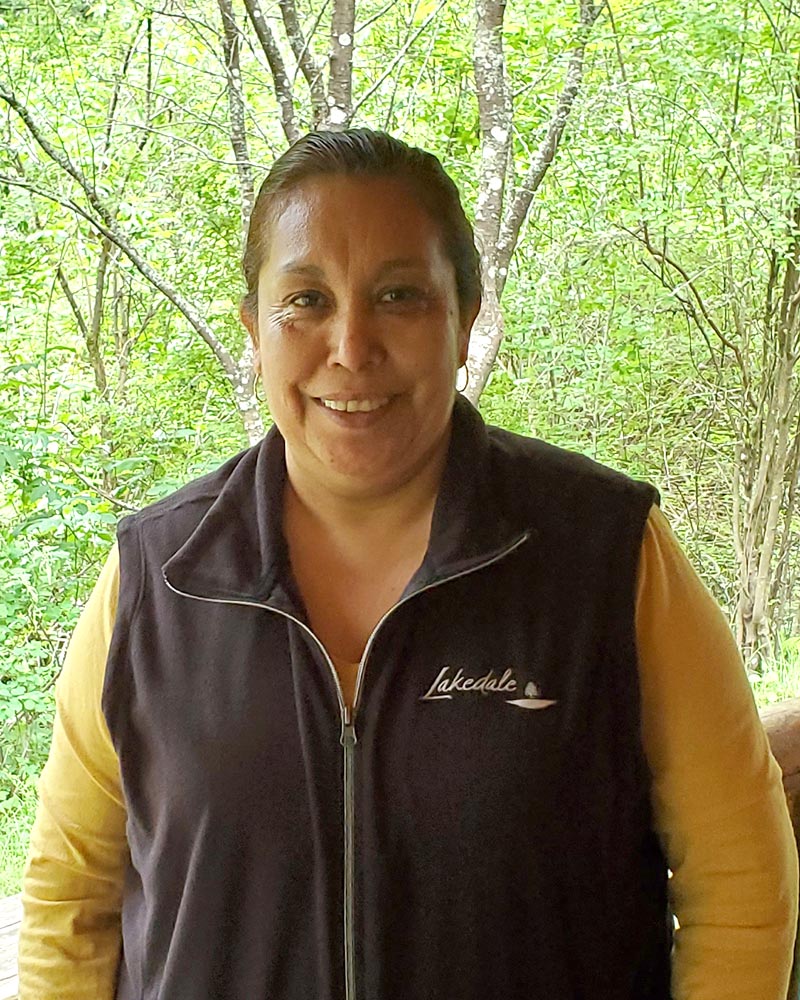 Marta and the crew keep our rooms sparkling clean, day in and day out. She has been a part of the Lakedale family for seven years and is a backbone-level member of our team. We can't overstate how warm and friendly she is, and her attention to detail is a fundamental asset to our core hospitality principles. Marta carries that warmth and kindness outside of Lakedale, as she spends a lot of her free time volunteering in the community and cooking for community events. The tamales she makes will blow your mind!