SAN JUAN ISLAND WHALE WATCHING TOURS
Whale watching and the San Juan Islands go hand in hand, and when you search for one, you'll usually find the other. While there are many reasons to visit the San Juans, no trip would be complete without an excursion to see the magnificent orca whales (fondly called "blackfish" by the Northwest Coast Native peoples) whether by kayak, tour boat, or from the shore.
An Introduction to the Southern Resident Killer Whales
Before you embark on your whale watching trip to the Pacific Northwest, we'd like to introduce our most famous residents, the Southern Resident Killer Whale population (also known as SRKW). The SRKW population totals 73 whales, as of 2019, when they were counted by the Center for Whale Research. The whales (also called orcas) are a large extended family grouped into three pods, J, K, and L.  These clans form sub-pods focused on older females, usually, grandmothers or great-grandmothers, who keep their offspring, both male and female, close for life.
If you're fortunate on your orca adventure, you might see all three pods join to form a superpod. Each of the Southern Resident pods communicates with a unique set of calls. Some of the calls are shared between all three pods, while others are distinct to J, K, or L pod. The sounds can travel 10 miles or more underwater.
The SRKW population has fluctuated considerably since 1976 when the combined pod families numbered 68. Before this, marine parks were allowed to capture live Orcas for display. They were banned from the practice after 40% of the population were either taken into captivity or killed during capture. The orcas showed signs of recovery when the pods grew to 98 individuals in 1995. In 2005, the U.S. government afforded the species protection under the Endangered Species Act. However, the SRKW population is still on the path to extinction, with the primary cause being the human-caused scarcity of Chinook Salmon, the Orcas' primary food source.
Where to see orcas in the San Juan Islands
Whatever your transportation mode, remember to bring your binoculars – they are your best friend, and everyone with you should have a pair during your San Juan whale watching tour. There's nothing more frustrating than having an orca breach while you're waiting your turn for the binocs. The optimum time for sighting orcas in the Salish Sea's inland waters is from March through October.
If you're the adventurous type, take your own kayak, rent a kayak, or better yet, reserve a sea kayak or adventure tour from one of the many qualified companies on San Juan Island. Whale watching tours on larger vessels usually have experienced onboard naturalists with a wealth of knowledge about the entire ecosystem, not just orcas. During a lull in the action, they will also point out other abundant wildlife in the Salish Sea: minke whales, Dall's porpoises, harbor porpoises, humpback whales, Pacific white-sided dolphins, sea lions, harbor seals, bald eagles, and more.
Are you a landlubber? No problem. There are some excellent locations onshore for a fantastic orca experience. Lime Kiln Point State Park is officially nicknamed "Whale Watch Park" and is one of the best places on earth to view migrating whales with your feet planted firmly on the ground. The shore of the park is composed of granite bluffs that jut into the sea. The water gets very deep, very fast, allowing orcas and other whales to come astonishingly close to the water's edge. San Juan Island National Historical Park is another beautiful park that sits at San Juan Island's southern tip. It was the site of San Juan Island's famous Pig War, a bloodless and short-lived conflict that erupted between British and American forces in the 19th century.  The Westside Scenic Preserve (a local haunt not found in most guide books) and San Juan County Park (a 12-acre park on San Juan Island's west side that is also great for launching kayaks) are two other favorite places to pull out your binoculars.
If you're a confirmed killer whale fan now, follow The Whale Trail. This site provides tips to view commonly seen marine mammals along the Pacific Coast of North America, from British Columbia to California.  It also has an interactive section where you'll find recent orca sightings – a fantastic resource to use even before your outing.
Friday Harbor
If you don't see any whales on your trip to the San Juan Islands (remember, orcas are wild animals who don't clock in), Friday Harbor has a consolation prize. The Whale Museum is home to everything orca, including the skeleton of the young orca Sooke, who died in 2012 but lives on in the museum's reverent exhibit. There is also a whale gallery and gift shop.
Many thanks to Sail the San Juans, Maya's Legacy, San Juan Safaris, Outer Island Excursions, and San Juan Excursions for the great photos!
Maya's custom eco-tour boats are the luxury way to whale watch. Tours typically range between 6-12 guests for a small group experience.  With a heated cabin, huge windows, and the ability to walk to the boat's stern and bow, you'll have no problem spotting orcas. Binoculars and blankets are included, and your guide may pull out some hydrophones for you to hear orcas chatting to each other underwater.
With two types of boats available, San Juan Safaris covers all the bases for your whale watching tour. Hop aboard the 55 ft. Sea Lion for a comfortable ride for whale watchers of all ages. Only 40 passengers are typically aboard, along with the captain and naturalists. For the more adventuresome, don an exposure suit (provided) and embark on the Kestrel. At 34 ft., this ridged inflatable cruises at a smooth 35 knots with no more than 22 passengers.
The Odyssey is a 65 ft. long converted U.S. Navy search and rescue vessel based out of the Friday Harbor Marina. Licensed for up to 80 people, it can accommodate private charters and weddings (post-pandemic) and will now only take groups of 20-30 for plenty of social distancing. The Odyssey also boasts two restrooms, padded seating, large viewing windows, and a snack bar.
Operating a sleek 26 ft. powerboat capable of running 32 knots, Captain Ken is a one-person operation. In addition to being an experienced captain, he is your tour guide, photographer, and naturalist. With only six passengers at a time, you're ready for an optimal viewing experience, and at the end of the tour, Captain Ken will send you the edited professional images from your trip.
If you're looking for a wind in your hair "expedition style" adventure, Western Prince could be for you. Operating two 40 ft. rugged aluminum boats, each seating 25, their vessels are similar to those used by the Coast Guard. Jump into a full-length anti-exposure suit and you'll soon be on your way to learning about the whales and wildlife of the San Juan Islands. Charter cruises are also offered.
Based primarily out of Orcas Island and Anacortes, this company operates vessels ranging in size from 26 – 44 ft., letting you tailor your experience. Their knowledgeable marine naturalists and Captains will make sure your trip is unique. Outer Island also books charter fishing trips: salmon, bottom fishing and even Dungeness crab and spot shrimp in the spring.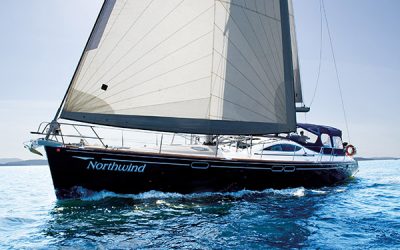 Take to the seas with info on marinas, boat rentals, tours, and where to cruise and sail in the San Juan Islands – a world-class boating destination!