The San Juan Islands are well-known for scenic beauty and whale watching, but talk to any Pacific Northwest angler, and odds are, the San Juans will be top of their list for excellent fishing. With a wide variety of species and both saltwater and freshwater options, the fisherman in your family has a choice of guided fishing trips, fishing boat rentals, kayak fishing, or shore fishing to get to that joyous tug of the line. Before beginning your saltwater adventure, remember to pick up a one-day or full-season fishing license. These are available on San Juan Island upstairs at King's Marine, above King's Market in Friday Harbor, at Ace Hardware in Friday Harbor, or online at the Department of Fish and Wildlife, which will also inform you of current local and state regulations. (Anglers should avoid certain parts of San Juan Island's west side when killer whales are in residence to allow them space to feed. Boaters are required to stay 300-400 yards away from the orcas).
Saltwater Fishing
Salmon
When people think of fishing in the northwest, salmon is king. Tricky to catch, they are also beautiful to look at and delicious to eat. There are five Pacific salmon species in the island fishery. The Chinook (King) is the favorite of many fishermen and is the largest Pacific salmon, ranging in size from 10-15 pounds to upwards of 135 pounds. "Blackmouth" are juvenile Chinook salmon that can be found all year in the San Juan Islands and Puget Sound.  Peak fishing is from November through January. Coho salmon (Silver) are seen as the most hard-fighting and are called Silvers because they don't change color as readily when traveling upriver to spawn. Some people consider Sockeye salmon (Red) the best eating (we disagree), and they are also difficult to catch, except in commercial seine nets. The Chum (Dog) contain roe that is prized by Asian cultures who love caviar. Pinks (Humpy) is the most plentiful salmon, easiest to catch, and still tasty, although they can give off an unappealing smell. Trolling with a downrigger is the most common method of reeling in salmon in our waters.
Lingcod
One of the most prized bottom fish, lingcod are strong fighters, aggressive, and make delectable fish and chips. Their body looks like a large snake, while their head and fins resemble a fish, and they can grow to over five feet in length. Hiding in places with hard rocky bottoms like reefs, breakwaters, and ledges allows the lingcod to capture their prey of octopus, shrimp, squid, and fish. The lingcod fishing season in the San Juans is very short, usually occurring between May 1 – June 15 each year, with a size limit of between 26″- 36″.
Greenlings
Greenlings are a smaller cousin to the lingcod, with the Kelp Greenling being the most common in the San Juan archipelago. It is also referred to as a Sea Trout (although not related). They love kelp beds, are easy to catch and provide good eating. Once the lingcod fishing season is over in the San Juan Islands, greenlings are an excellent alternative to pursue.
Halibut
The largest of the bottom fish, these powerful monsters can reach seven to eight feet in length and are usually found in the Strait of Juan de Fuca, just off San Juan island to the southwest. As you can imagine, large boats and obscenely strong equipment are required to land halibut because of their size, but it is worth every scrumptious bite. To further complicate matters, halibut fishing season in the San Juan Islands is incredibly short and very restrictive.
More Bottomfish
Cabezon sculpin, flounder, and perch are all found plentifully in the San Juans and all make for yummy eating.
Dungeness Crab
Technically not a fish, Dungeness crab ranks right up there with salmon for the Pacific Northwest's favorite seafood. We've found the easiest way to catch Dungies (and Red Rock crabs) is with a cage-type trap baited with frozen old chicken or turkey parts. (King's Market in Friday Harbor carries them inexpensively in the meat department during crab season). Drop the trap at your favorite spot (locals are notoriously tight-lipped about sharing their go-to sites unless plied with alcoholic beverages), return a few hours later, and hopefully, you'll have dinner. King's Marine carries handy measuring devices to make sure your crab is large enough to keep, and you'll also need a crabbing license for the season.
Fresh Water Fishing
There are a surprising number of small lakes scattered throughout San Juan Island, and most of them are stocked with fish.  Rainbow trout and largemouth bass are the two most common varieties of game fish found. We stock our 40 acres of lakes at Lakedale every season, and guests reel in huge beauties every year when fishing in our lakes on San Juan Island. You can buy a Lakedale fishing license at the General Store.  Other lakes on the island to test your skills are Egg Lake and Sportsman's Lake. Both are located only 10 minutes from Friday Harbor, close to Lakedale.
Where to Go
The quickest and easiest way to get the lay of the land, so to speak, when coming to the islands to fish is to hire a guide or join a chartered fishing trip with one of the skilled companies below. Their experienced captains and guides will make sure your fishing trip is both productive and enjoyable…but then again, when is a day out fishing on the water not?
With special thanks for photos to San Juan Island Fishing Charters and Outer Island Expeditions!
Located at the foot of Spring Street in Friday Harbor, this local firm offers seasonal charters for salmon, halibut and lingcod. Providing all fishing gear, a one-day fishing license, and local knowledge, San Juan Island Fishing Charters will have you fishing fast. They will also drop complimentary crab pots. Charters are limited to six guests or less, and if fishing isn't your cup of tea, they also offer wildlife and photography tours.
With vessels moored on Orcas Island, this company provides fishing charters throughout the San Juan Islands. They fish for salmon, lingcod, rock fish, halibut and other species as well as Dungeness crab and spot prawns. All gear is provided and fishing licenses are available onboard. A fun option is to do a combination fishing and whale watching trip. A bonus is that your Captain will clean any fish you catch!
Operated by Outer Island Expeditions in Roche Harbor, Roche Harbor Charters offers salmon and bottom fishing charters from May through October. With vessels ranging in size from 23 to 38 feet, groups of various sizes can be accommodated on custom charters for fishing, island hopping, birdwatching, photography or a lighthouse discovery tour.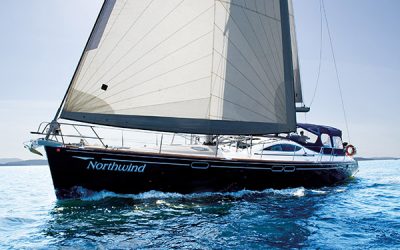 Take to the seas with info on marinas, boat rentals, tours, and where to cruise and sail in the San Juan Islands – a world-class boating destination!