SAN JUAN ISLAND BOAT RENTALS & TOURS
Travel & Leisure ranks the San Juan Islands as one of the top 10 island destinations in the U.S., in no small part because of the incredible boating opportunities found in our waters. Whether you are power boating or sailing, cruising in the San Juans offers secluded anchorages, unsurpassed natural beauty, abundant wildlife including Orca whales, and plenty of fun places to dock, quaff a pint of local craft beer, and dine on regional seafood.
Marinas
There are three marinas located on San Juan Island. The Port of Friday Harbor Marina is the largest, providing year-round shelter with 500 slips and 100 slips for overnight visitors. You can make reservations for San Juan Islands boat rentals, tours, and sailing here in the summer months. Within walking distance of the town of Friday Harbor, the marina has easy access to restaurants, food markets, hardware stores, and other services. Fuel, Wi-Fi, potable water, an on-site laundromat, pump-out stations, and restrooms with showers are available at the marina. Boat rentals and tours are also offered at the Friday Harbor Marina. Boat owners and crews can make quick connections with scheduled seaplane service and passenger ferries to the mainland.
The Roche Harbor Marina at the north end of the island offers 377 slips for boats up to 100 feet in length and services such as fuel, power, a general store, pump-out, and showers. Roche is a great place to walk the docks and ogle mega-yachts and sloops, especially on holiday weekends.
The quiet Snug Harbor Resort Marina, on the west side of the island in Mitchell Bay, holds over 50 boats and is close to whale watching, fishing, and crabbing. You'll need transportation to get from the marina into town and any services. Other resources  for boat owners are the San Juan Island Yacht Club, and the Seattle Yacht Club, which has an outstation in Friday Harbor.
Boat Rentals and Tours
If you don't own a water vehicle, never fear. The San Juan Islands have plenty of options for sailboat and powerboat rentals, as well as boat tour operators who'll guide you on exciting high seas adventures. Most of the operators and rental outfits we mention are located on San Juan Island. Bellingham is also a popular port to book short and long cruises, and rentals in the islands.
Marine Parks and Trails
Once you've set sail in your vessel, or powered off in a boat rental, the Washington State Parks and Recreation System, of which the San Juan Islands are a part, has more than 40 marine parks and 8500 feet of public moorage for your boating enjoyment. As mentioned on their website, there is fishing galore, old forts to explore, clams and crabs to catch, and scenic trails to hike on your Salish Sea adventures.
The Cascadia Marine Trail is an amazingly cool boating option. This water route traces some of the Puget Sound coves and inlets that originally marked a Native American water trade system. The trail is primarily accessed from the water and is suitable for single or multi-day trips by canoe, kayak, motorized boats, or swimming if you're an exceptionally hardy type. There are 66 campsites and 160 day-use sites.
For other ideas on where to moor your boat in the San Juans, take a peek at our blog post on The Best San Juans Islands Camping Spots for a Family Getaway.
Many thanks for the great photos to Sail the San Juans, San Juan Sailing, All Aboard Sailing (Ken Rea and Valerie Shore) and Friday Harbor Boat Rentals!
Based in Bellingham, San Juan Sailing boasts a large fleet of sailboats and powerboats. They offer instruction, charters, guided flotillas to the San Juans, the Gulf Islands, and Desolation Sound, and if you become hooked, they'll even sell you a boat!
Go back in time and experience the history, adventure, and romance of sailing on a traditionally gaff-rigged wooden sailboat, the Spike Africa. From ½ day sailing charters to multi-day custom sailing excursions around the San Juan Islands, explore the Salish Sea and parts beyond. (Don't forget your pirate attire).
With a small selection of powerboats, you can easily be your own captain cruising the San Juans. Or if you're just getting your feet wet, try a half-day (4 hrs) or full-day (7 hrs) charter on a 32′ classic Grand Banks Trawler.
Offering a fleet of 21′ welded aluminum boats with canvas enclosures and touchscreen navigation systems, this company rents out of Roche Harbor. The perfect way to spend a day in the San Juan Islands: fishing for salmon, crabbing, whale-watching, or island hopping.
Perfecting the art of "Slow travel" for over 25 years! Northwind is their new 55′ luxury sailboat, allowing you to experience either six- or twelve-day journeys through the San Juans or the Inland Passage in style. Enjoy kayaking, hiking, crabbing, then savor gourmet cuisine, from homemade pasta to seasonal blackberry cobbler. Sounds like the ideal vacation!
Sail away for the day from Friday Harbor on the beautifully restored 42′ Pilothouse sloop, Peniel. The experienced husband and wife captains are well versed in both the dynamics of sailing in the PNW, local wildlife, and the local Orca whale community. Try a sunset dinner or photography cruise to make your island vacation something exceptional.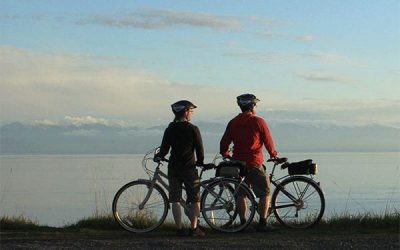 Make the most of your bicycling vacation to the San Juan Islands! Discover the best biking on the islands with links to maps, rentals, and guided tours.