SAN JUAN ISLAND BIKE RENTALS AND TOURS
The San Juan Island archipelago consists of four ferry-served islands and, depending on who you talk to, over 400 other islands and rocks, covering 478 miles of shoreline. Only the largest four are suitable for biking unless you're a very hardy Pacific Northwest type. San Juan Island is the most sizeable and populated, Orcas boasts the tallest peak, Lopez is the farm island, and Shaw is the smallest. Each island offers a unique experience for cyclists. And each also bestows the best of the San Juans: panoramic vistas, abundant wildlife, towering forests, secluded coves, hiking stops, oh, and did we mention, you're always surrounded by water? If it's your first time biking the islands, a bike tour might be the way to go (see operators below), and there are also many options for daily bike rentals as part of your San Juan Islands experience.  
Most cyclists use the Washington State Ferry system to get to the islands. It is exceptionally biker friendly and doesn't require a reservation for pedestrians or cyclists. Depending on the route, there is a stowage fee of $1 – 4 in addition to the passenger fee.  (If you're bringing a bike on your car, you will need a reservation). Bikers receive priority loading and unloading on sailings, and bike racks are provided at most WSF terminals. Another bonus is the fact that on inter-island ferries, bicyclists can travel free of charge.
Local drivers, familiar with safe passing areas, are usually considerate of cyclists. Some island roads have narrow shoulders and short sightlines, so caution is always a good idea. We like to recommend that our guests wait until the ferry has unloaded all vehicles to embark on their two-wheeled journey. Lots less traffic that way!
Shaw Island
While Shaw isn't the island's preeminent bicycling destination, its small footprint, sparse traffic, and rustic vibe genuinely make it a "Little Gemstone." The ferry terminal and a small store here were "manned" for 27 years by a Franciscan order of nuns until they retired in 2004, but the store is still open for basic supplies. Shaw County Park is approximately 3 miles from the ferry landing, and reservations are suggested for camping with your bike. While many of the roads that lead to the shoreline are dead ends, take Hoffman Cove Rd. to its end, and after a short walk, you'll find a University of Washington Conservation site. A worthwhile excursion, especially if you manage to see the Aurora Borealis on a clear night.
Lopez Island
The least hilly of the San Juan Islands, Lopez is perfect for the recreational cyclist. You'll ride through fertile farmland, loads of blackberry patches in summer, marshlands, a few huff-and-puff hills, and you can circumnavigate the island in a day. For a comfortable ride, cycle four miles from the ferry to historic Lopez Village, adjacent to Fisherman Bay. Dine, shop, gallery hop, and make a stop at Holly B's bakery, a delicious island institution. The village boasts a fully stocked grocery store, an organic grocery, a pharmacy, public restrooms, and showers. There are a few hotels plus numerous Airbnb's on the island. Our favorite campsites are at the beautiful little Odlin County Park (one mile from the ferry landing) and Spencer Spit State Park, 138 acres complete with hiking trails, also accessible by car. Village Cycles and Lopez Island Bicycle Works are the bike shops on Lopez and offer repairs and bike rentals for any cyclist exploring the San Juan Islands. Check out the Cyclist's Guide to Lopez Island, which includes a cycling map of the island. And don't forget to do the Lopez Wave – water not required.
                                                                                          
Orcas Island
Orcas could be considered the Tour de France of the San Juan Island's biking world. Dominated by Mt. Constitution, which towers over all the San Juans at 2,409 ft., you'll want to be in shape to tackle biking on Orcas Island. In addition to having the most hills, Orcas' roads are narrow, winding, steep, and have narrow shoulders. For a leisurely ride, head from the ferry landing, at the south end of the lung-shaped island, to Deer Harbor, about seven miles away. With a quaint village, lodging, dining, and a marina, Deer Harbor also has one of the few sandy beaches on the islands.
Eastsound, the island's main town, is about nine miles, via Crow Valley Road, from the ferry. Expect to find gourmet restaurants, lovely hotels and B&B's, grocery stores, an organic food co-op, and local artisan wares. Eastsound's full-service bike shop is Wildlife Cycles, providing repairs and rentals of regular and e-bikes (highly recommended on Orcas.) Onward to Moran State Park, for camping, a pristine lake, and the brutal 5-mile ride to the top of the mountain, that is, if you still have the legs. The reward is a magnificent view of the entire San Juan archipelago. The Cyclist's Guide to Orcas Island includes a cycling map and tips for island cycling.
San Juan Island
The most populated of the major islands, San Juan also has the most diverse bicycling terrain, with a variety of options scattered across the island for bike rentals and tours. In the middle of the island, with no water in sight, you might think you're in rural farm territory with orchards, lavender fields, vineyards, and cattle grazing by the side of the road. The west side of the island will have you believing you're in Big Sur, but with the possibility of seeing a pod of orca whales at Lime Kiln State Park. On the east side, majestic Mt. Baker and Salish Sea views never fail to inspire cycling legs. As the largest town in the San Juans, Friday Harbor has all the conveniences you'll need, from restaurants to grocery stores to camping supplies and hip boutiques. There is also no shortage of accommodations. Ferry Landing Suites is the most convenient and has the best views in town, and it's just a few steps from the ferry. And of course, only 5 miles from town is Lakedale, with a room type for every possible taste: luxury yurts with private hot tubs, glamping units with bathrooms, lodge rooms with breakfast, camping, and log cabins too. See the listings below for bicycle shops and tour companies on San Juan Island. The Cyclist's Guide to San Juan Island provides the best bike routes to take on San Juan and biking tips. You can easily spend 2-3 days on this island alone and still not see all of its beautiful 55 square miles!
To "E" or not to "E-bike"
Unless you're an expert cyclist, you'll have way more fun on an e-bike in the islands than not. Most of the San Juan Island bike tour operators have e-bikes as either an option for their trips or the only bike they provide. So we give a hearty YES to e-bikes!
Mountain Biking on San Juan Island
Most of the off-road biking found in the San Juans consists of multi-use trails built either as footpaths or logging roads. There are three main trail areas:
Airport Trail, a family-friendly 2-mile trail that loops between the airport and Skagit Valley College
Mitchell Hill, set in 320 acres near English Camp. Recently acquired by the National Park Service, expect to share it with hikers and horseback riders.
Roche Harbor Trails is privately owned but welcomes visitors, with over 6 miles of mowed trails through meadows and woodlands.
Click here for a detailed map of Mitchell Hill and the Roche Harbor Trails, including Roche Harbor Highlands.
Many thanks for the wonderful photos to Greg Sellentin/Meat Machine Bicycles, Backroads, Susie's Mopeds, TerraTrek, and Discovery Adventure Tours.
Located just two blocks from the ferry, this gem of a shop offers service, sales, and bike rentals for cyclists of all experience levels. Their team is top-notch with technicians to help fix what ails your bike or get you fitted with a well-tuned rental for a day spin around the island. Included with every rental are a helmet, lock, flat change kit, and trunk bag.
Conveniently located in downtown Friday Harbor, Discovery offers several half-day and full-day bike tours, with small groups on quality bicycles. Take the Half and Half tour of the local parks in the morning and a guided kayak tour with a naturalist guide in the afternoon. Bike rentals are also available if you want to be your own guide.
Founded by a San Juan Island native who knows his stuff, TerraTrek offers multi-day Inn-to-Inn and Camp-to-Camp Bicycle Tours on the three key San Juan Islands. With small group sizes and Cannondale bikes, you'll stay in excellent accommodations, feast on three delicious meals a day, be fully van supported, AND have a day of whale watching or sea kayaking included. Vacay!
An island institution, Susie's bright red mopeds, scooters, and scoot coupes are the motorized way to travel around the island. Susie's is a few blocks from the ferry, and she now rents Pedego E-bikes and, for the non-cyclists among us, Chevy Tracker convertibles. All in bright red, of course.
In conjunction with a local partner, the renowned Northwest outfitter has several bicycle adventures for families, friends, and even a women-only trip. With keen attention to detail, their trips cover all three main is-lands and are usually very affordable for REI members.
From active multi-day adventures to strictly biking tours, Backroads takes the guesswork out of planning a San Juans vacation, and has trips combining the San Juan Islands with Victoria, BC.  Experienced trip leaders, full van support, most meals, and private guided tours make any Backroads trip a special trip.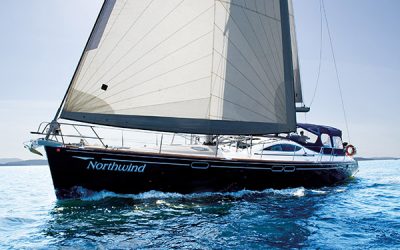 Take to the seas with info on marinas, boat rentals, tours, and where to cruise and sail in the San Juan Islands – a world-class boating destination!