SAN JUAN ISLAND BEER, WINE & SPIRITS
The San Juan Islands have a long history of using careful craftsmanship to create exceptional beer, wine, and spirits from local ingredients. The islands' rich history of farming and lush, productive land provides a microclimate perfect for orchards and vineyards. Here are our choices for the best wineries, breweries, and distilleries in the San Juans. If you're planning a visit, don't miss out on your chance to enjoy some of the most delightful inebriants our island community has to offer.
Cider and Spirits
WESTCOTT BAY CIDER AND SAN JUAN ISLAND DISTILLERY 
Westcott Bay Cider grows its apples in an orchard dating back to the 1870s when the San Juan Islands were known for supplying the Pacific Northwest with much of its fruit. Westcott Bay released its first retail cider in 1999 and has perfected the art for almost two decades. The cider house produces three ciders of varying sweetness and has become an iconic go-to for fun and a very relaxing afternoon. In 2010, the cidery joined forces with two new partners who were passionate about opening a distillery on the San Juan Islands. The operation expanded to include apple brandy, pommeau (a casket-aged combination of brandy and fresh juice), liqueurs, and 12 different gins. The hand-hammered German copper still, which produces eau-de-vie, is not to be missed.
MADRONE CELLARS AND CIDERS
Inspired by French Champagne, dry Rhones, and Bordeaux Reds, the young owners of Madrone Cellars, Shaun and Amy Salamida, are bringing a taste of Europe to the winery scene of the San Juan Islands. Shaun's wines are made with minimal intervention and are unfiltered, favoring the natural style.  Their goal is ultimately to have a bio-dynamic vineyard on San Juan Island, but for now, they're sourcing grapes from Eastern Washington. Madrone Cider was born in 2017 and uses the same process as French Champagne to produce a delightfully dry and refreshing hard cider with fruit from local farms.
Breweries
SAN JUAN ISLAND BREWING CO.
A newer addition to the Friday Harbor drinking scene, the San Juan Island Brewing Co. is an independent craft brewery built using the latest scientific equipment. You'll have a bird's eye view of the substantial glass-enclosed brewery while sitting at the bar sipping a brew. Using old-world European malts and hops from eastern Washington, San Juan Island Brew Co. produces fantastic tasting ales and lagers, and 100% of their beer is made in Friday Harbor. Try an Outer Island IPA, Bull Kelp ESB, or Yachter's Daughter Helles Lager. The brewery has an eclectic, delicious pub menu featuring stone hearth pizzas – the best crust on the island.
Wineries
SAN JUAN VINEYARDS
San Juan Vineyards produces award-winning estate grown wines with grapes grown on San Juan Island, the coolest-climate growing region of Washington State, the Puget Sound AVA. The vineyard was recently purchased by the Corliss family, who own wineries and vineyards in Eastern Washington, so their already good wines are bound to get better. Take a break from Chardonnay at this San Juan winery and try their Siegerrebe and Madeleine Angevine wines; both pair exceptionally well with seafood from the island.
ISLAND WINE COMPANY
After moving to San Juan Island in 1987, the current owners changed high powered careers and purchased the Wine Company. In addition to selling wines from Washington, Oregon, and California, their cellar includes an excellent selection of imported wines. The business is also home to San Juan Cellars, a wine produced by an experienced UC Davis grad and sold only at the Wine company. Wine tastings are expected to resume at this San Juan winery when Covid restrictions are lifted, but in the meantime, they are happy to deliver wines to your door. Conveniently located just steps from the ferry at Cannery Landing, it's easy to stock up before you head off on your island adventures.
FRIDAY HARBOR CHOCOLATE TASTING COMPANY
This unique island business combines the best of two worlds – chocolate and wine! Owner Aylene Geringer's passion for chocolate manifested itself a few years ago in a former barbershop along Spring Street, Friday Harbor's main thoroughfare. She sources handcrafted chocolates from accomplished chocolatiers in Washington, Oregon, and California. All of her chocolates are made with natural ingredients and are free of preservatives. Aylene's other passion is drinking wine, so she also offers port and dessert wine tastings (as a licensed Wine Shop) for you to sample and purchase. The shop will create custom gift boxes and party favors for any occasion you can imagine. 
Many thanks for the wonderful photos to Friday Harbor Chocolate Tasting Room, Island Wine Company, San Juan Vineyards, Madrone Cellars, and Westcott Bay Cidery and Distillery.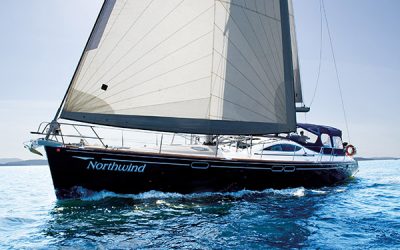 Take to the seas with info on marinas, boat rentals, tours, and where to cruise and sail in the San Juan Islands – a world-class boating destination!