All you need is love—and Lakedale! Couples from the Pacific Northwest and beyond choose Lakedale for destination weddings that check all the boxes. Surrounded by the unique natural beauty of the area, our resort provides the perfect backdrop for all the ways you choose to tie the knot, and our team of professionals is ready to make your wedding dreams a reality. But don't take our word for it—read on to hear from happy brides who couldn't imagine saying "I do" anywhere else!
Testimonials
Jake and Kate
Lakedale was everything we could have wanted for our wedding venue. Their knowledgeable staff made planning our wedding simple, and their ties to fantastic local vendors meant that we could rely on their expertise while making decisions long distance. When our friends and family began to arrive, they could not stop raving about Lakedale's magical PNW atmosphere and cozy accommodations! On the big day, Carla and her team were flexible to changes and went out of their way to assist both us and our guests. My wife and I wanted a private champagne toast on the lake right after the ceremony, and Carla made it happen for us! It was a moment that we'll always remember, and our guests loved watching us pop the bottle in the canoe. Thanks to Lakedale's staff, we were free to simply experience our wedding without worrying about the details. We will always be so grateful to Lakedale's team for helping us make our day perfect.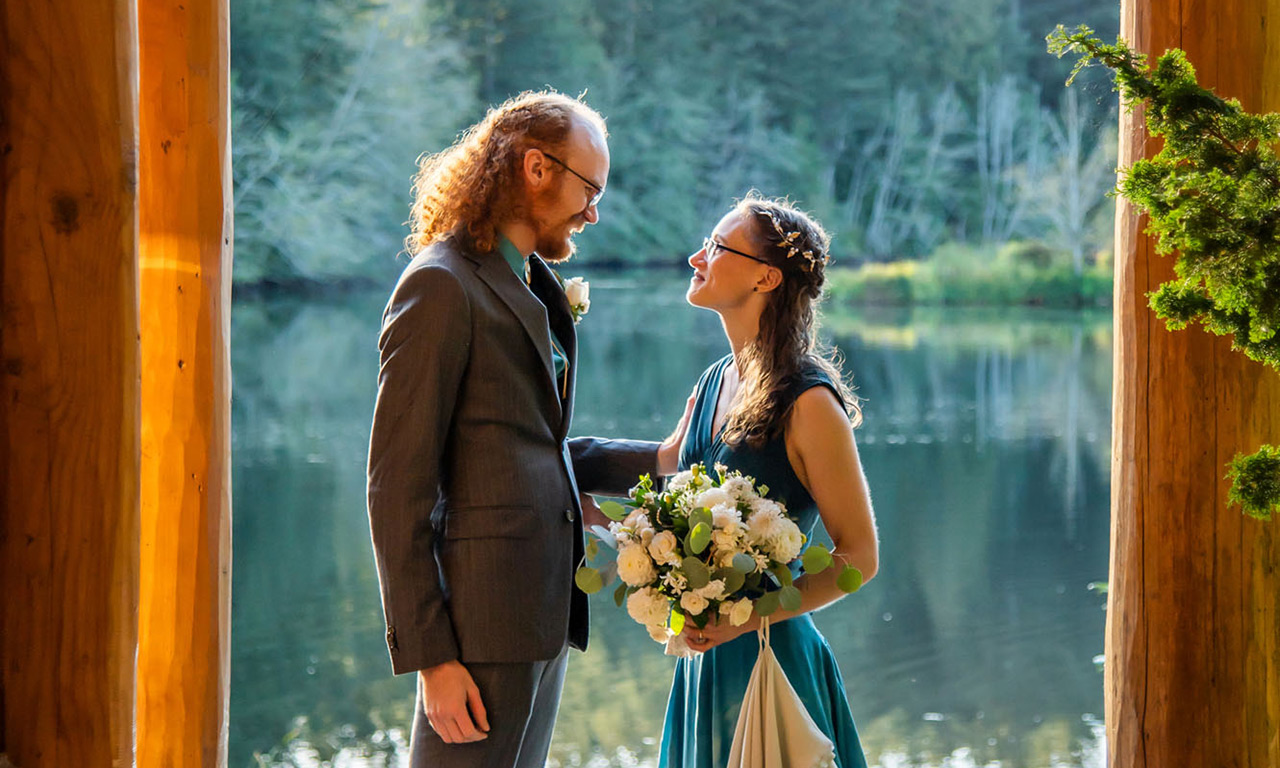 Mikaylah & Chance
Lakedale resort was amazing! They helped with whatever we needed, including setting up tables and chairs and even providing golf carts to help family members who weren't able to walk very well. Carla is amazing and responds to emails in a timely manner. Lakedale is the place you need if you're looking for an outdoor and indoor wedding setting. It was relaxing and beautiful and worth every penny. Thank you, Lakedale!
Katie & Erik
We wanted to have a "summer camp" type wedding, but at a location that would actually allow our guests to be comfortable. Lakedale was PERFECT. It's an oasis—absolutely beautiful and with a wide range of accommodations. We rented out the whole site so almost all of our guests could stay on the property. It's contained enough to feel exclusive (but not cramped), with a couple of different beautiful spots for ceremonies, receptions, etc. The staff was fabulous beyond words. We worked closely with Carla, and she was responsive, helpful, and flexible during the planning process. During the wedding weekend itself, the staff was always present but never in the way, and it felt like the setup magically appeared and got cleaned up without us or our guests having to worry about it. Being at Lakedale is a special experience—having a wedding there is a dream. All of our guests told us they'd never been anywhere like it and were planning their return trips. I cannot recommend it highly enough!
Kristina & Chris
Great venue! We had 110 people at our wedding, and it was the perfect blend of nature and beauty.
Kelly & Josh
Our wedding at Lakedale was literally EVERYTHING we hoped it would be. We threw a weekend-long party, and 90% of our guests (135 total) stayed ON the property. Lakedale has something for everyone: luxurious rooms in the Lodge, entire cabins for 5-6 people to share, canvas "glamping" tents, or just simple campsites. We booked out the entire Lodge, all six cabins, the Airstream RV trailer, a number of canvas tents, and tons of campsites. I can't even begin to explain how fun the weekend was…everyone was so relaxed, the weather was amazing, and the Lakedale staff was simultaneously ever-present when we needed something, yet completely out of the way at all times. They were 100% open to everything we brought to the table—we are very DIY people, and our wedding reflected that. We asked to have our ceremony in a location they had never held a ceremony before: it was no problem for Lakedale. We wanted our friends to throw a live concert on Friday night as people were arriving. Lakedale staff took care of that and set up all the chairs! We had a very specific layout for our reception: easy, they followed our map and set it up without complaint. When we were all partying late into the night on Saturday night, they found ways to work with us, so the party didn't have to end. We had our own alcohol, caterer, decorations, everything—and Lakedale was on board with it all. Lakedale staff was always right on cue, yet never in the way. All of our guests raved about the weekend: how relaxing and memorable it was, how AMAZING the location was, how much they enjoyed the ferry ride over, etc. I can't say enough about Lakedale Resort as a venue for the perfect weekend wedding!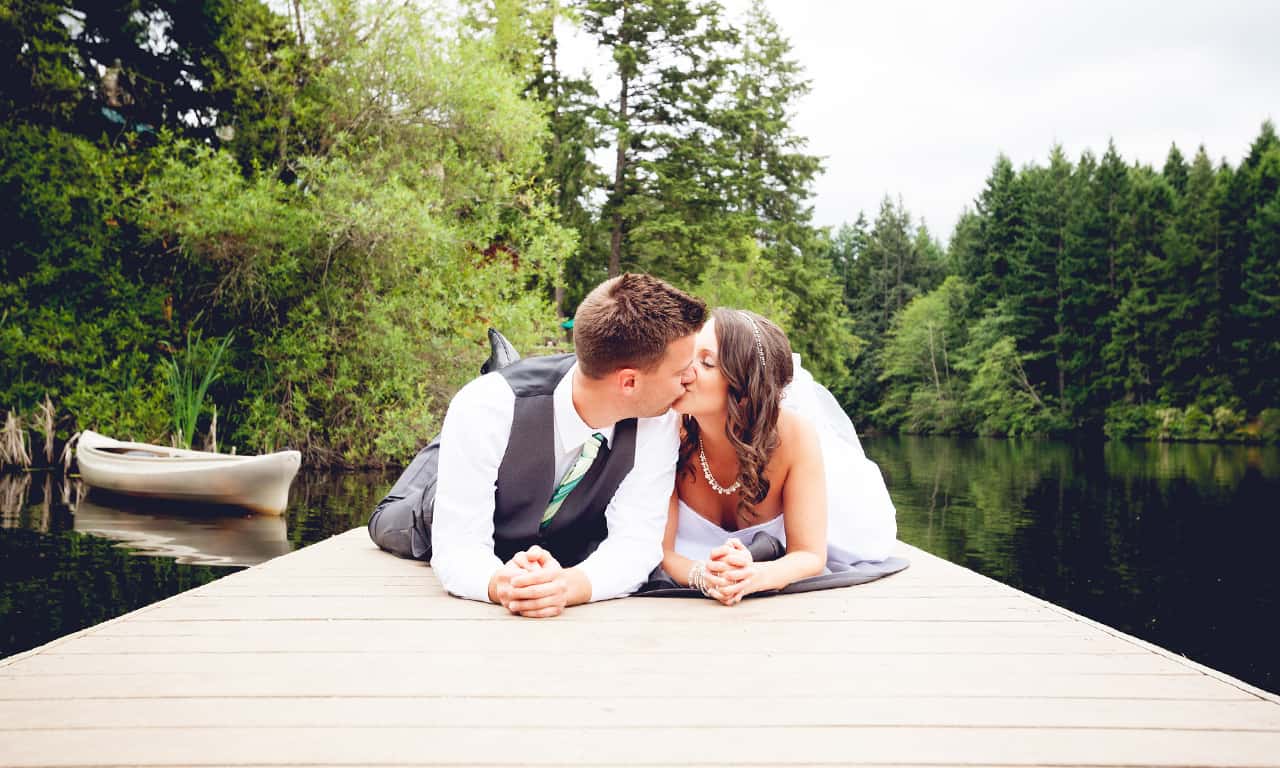 Noelle & Logan
I recently had a wedding at Lakedale. As many of you know, it's hard to plan a wedding, and even harder to plan one that is on an island. I live in the greater Seattle area so going back and forth between locations was something that I had to plan for. Going back and forth (when needed) was very simple. The ferries are always on time, and as long as you are there early, you will get on. From there, getting to Lakedale is very simple. When coordinating the logistics of the wedding, Lakedale staff were very responsive to all of my questions and went above and beyond in many areas. The planning of the wedding was seamless. The actual wedding day was amazing, and I would not have been able to do it without the talented, responsive, and efficient Lakedale staff. They met and exceeded every need that I had and helped to create the best day of my life. I had no worries at all. From setting up the reception to setting up the signs, the chairs for the ceremony, and prepping for cocktail hour—you name it, they were on it.
The majority of our guests stayed at Lakedale, almost renting out the entire resort. This worked out SO well for several reasons: 
We were able to see our guests for more than a night; most of them came up a day or two in advance to make a vacation out of it. It was so great to spend time with people that we knew we would only see for a second on our actual wedding day.

The guests were able to make mini-vacations out of our wedding, taking their own time to explore the island. (Thank you to MaryAnn and her map!)

The guests did not have to drive home and take the ferry after the wedding. With our wedding going until 10 p.m., they were all able to relax and enjoy the night, knowing that they didn't have to catch a ferry the same night.

Everyone was relaxed, and the kids were occupied! The resort brings such an atmosphere of serenity and relaxation, everyone was relaxed. We did not have the "high-stress" atmosphere that I sometimes hear about during pre-wedding activities. There are so many activities for kids, they were all occupied with smiles on their faces. There are many activities for adults as well, and from fishing to paddle boarding and canoeing to ping-pong, our guests were entertained at their own leisure.
Thank you, Lakedale front desk staff, for making our guests' visits so easy—split checks and all!
After such an amazing wedding, I would recommend getting married at Lakedale to anyone. The landscape is gorgeous and made for impeccable pictures, and the staff's knowledge, responsiveness, and kindness made the logistics so much easier. From all the stories and pictures, we know our guests had a great time. Even more, this was our dream wedding, and everything was absolutely perfect. If you are looking for a place to get married, I know Lakedale can make your dreams come true as well!
Kire & Colin
We had our dream wedding at Lakedale! It was a three-day event, and we took over the entire resort for that time! We were able to bring in our own food and drinks and had a local favorite band, "The Chameleons," play! The staff at Lakedale never ceased to amaze! They were extremely organized, welcoming, and positive throughout our year of planning and during our special weekend! The setting was perfect for what we wanted. All of our guests were able to stay at Lakedale, and there were accommodations for everyone—from camping to glamping to lodging to cabins! Our guests fished, played kickball, biked, and enjoyed the peacefulness and beauty of the setting. Lakedale will forever be a special place for our families to visit!
 Are you interested in planning your own dream wedding at Lakedale? Start the process on our Wedding 101 page, get questions answered on our Wedding FAQ's page, and count on us to be with you every step of the way.