A truly magical, short ferry ride from Friday Harbor to Orcas Island separates you and your stay at Lakedale from the next leg of your adventure. San Juan Island's close sibling, Orcas Island, has its own extraordinary history worth exploring. The landscape surrounding Orcas is slightly more mountainous while its interior is fielded and pastoral. The two islands have a ton in common, but each has its own supernatural pull. Let's explore San Juan Island vs. Orcas Island!
The History and Geography of Orcas Island
Orcas Island was initially inhabited by the Straits Salish peoples, notably the Lummi tribe. It's more rugged, mountainous, and forested than the other islands in the archipelago. It is nearly divided straight down the middle by the long inlet of East Sound, with two smaller channels (West Sound and Deer Harbor) indenting its western half. 
In the late eighteenth century, European explorers charted the island. By the 1850s, British and American trappers and settlers had arrived. Orcas Island was part of the territory disputed in the England vs. United States' "Pig War." It became part of San Juan County in the State of Washington after arbitration awarded the islands to the United States. White settlement immediately increased, and by 1895, a highly productive agricultural community was firmly planted. 
One of the most influential people to live on Orcas Island, former Seattle Mayor Robert Moran (1857-1943), led to the establishment of Moran State Park (more on that below). During and after Moran's time living on Orcas, resorts opened throughout the islands while agriculture declined. There are still farms and active agriculture on the island, however, Orcas Island's tourism-driven economy continues with many activities, resorts, hotels, boutique shops, and the state park catering to tens of thousands of summer visitors each year.
A Note About the Name "Orcas Island"
It's easy to assume that Orcas Island was named after its famous sea dwellers, but that's not the case. "Orcas" is short for the Viceroy of Mexico, Juan Vicente de Guemes Padilla Horcasitas y Aguayo, who financed the exploration of the area by Francisco de Eliza in 1791. The name originally applied to part of the San Juan archipelago, not the island. Orcas Island's name was made official, applying to the island specifically, when the British Admiralty charts were reorganized in 1847.
A San Juan Island Refresher
San Juan Island is the busiest and most populated (a little under 7,000 year-round residents, which doubles in the summer) of all the islands in the archipelago. Conversely, Orcas Island is more significant in size. San Juan Island is perfect for whale watching and offers visitors the highest probability of seeing orca whales, based on the sheer amount of wildlife tour outfitter options alone. You can see our guide to whale-watching tours here.  
Two popular destinations on San Juan Island are English Camp and American Camp, on opposite ends of the island. These two camps offer a fascinating history: they were a compromise between the British and the US while the two countries worked out the water boundary between who owned what. The US prevailed, and the two superpowers almost went to war on the island over the shooting of a pig (remember the "Pig War" we mentioned above? Orcas Island got tied up in the dispute, too). At these two National Historical Parks, visitors can learn more about it all. You may also recognize some of the names you read about on the historical signage at each one, like Roche.  
Beyond a self-guided history tour, there are quite a few other points of interest on San Juan Island worth exploring:
Orcas Island: A Whimsical, Forested Artists' Haven 
Some describe Orcas' shape as "two saddlebags" or a trapezoid, but we prefer to think of it more as a melted horseshoe. It takes just about 35 minutes to drive the 20 miles from Deer Harbor, on the western side, to Doe Bay on the eastern side of the island. Along the way, expect to pass lots of rolling farmland, forests, and (sometimes) visible mountain peaks. 
The western side of Orcas Island is dry and rocky. On the eastern side, Mount Constitution (elevation 2,409 feet) in Moran State Park is the highest point in the San Juan Islands and offers sweeping views up to Canada. You may feel like you're exploring many different worlds on Orcas Island—because you are! 
There aren't any stoplights or chain restaurants on Orcas Island, and many of the restaurants have limited hours in the off-season (October-May). On a typical summer weekend, however, Eastsound brims with tourists visiting boutique shops along the waterfront, shopping at the farmers' markets on the village green, or enjoying the work of local artists at galleries spread throughout the island.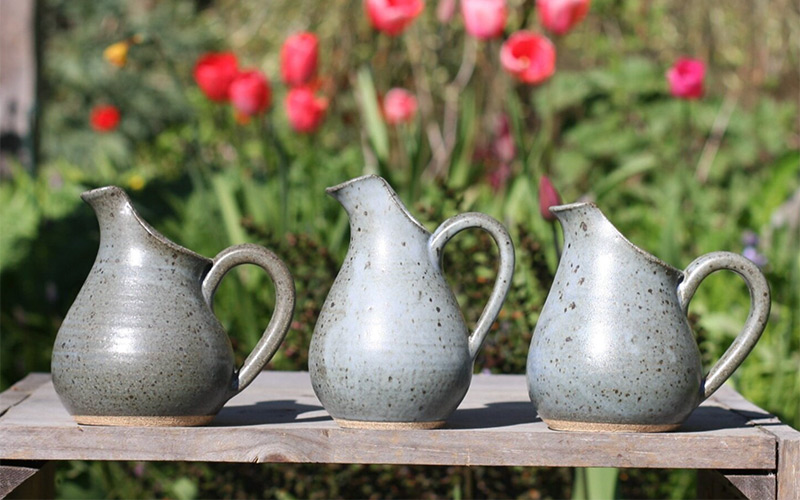 Rumor has it that Orcas Island Pottery, which opened in 1949, was the first pottery shop in Washington. A large handful of other pottery shops followed suit, and Orcas Island enjoys a fine reputation as a haven for artists, and with good reason! The Orcas Island Artworks Cooperative Gallery is located in a historic strawberry processing plant in Olga. Organized in 1981, it is one of the oldest artist co-ops in the nation. While you're at the co-op, spend time exploring Olga. It has a few cute restaurants, and beaches, and provides a whole different vibe than the other towns on the island do.
Orcas Island Lodging Options
The Orcas Hotel was built from 1900 to 1904. It is the oldest hotel on the island. Robert Moran's mansion turned resort, Rosario, also brings a vibrant history. Shortly after moving to Orcas Island, Moran bought much of the land around it—5,000+ acres (more than 15% of the island)—and eventually donated the most scenic parts as a public park. Moran State Park offers camping accommodations, as well as glamping options.  
West Beach Resort offers a nice mix of cabins and camping. While you can always go the vacation rental route, one of the newest options in the town of Eastsound, Outlook Inn, offers a luxurious, modern aesthetic and unparalleled views.  
Doe Bay Resort is a popular lodge and resort that has a wonderful spa, an organic foods café, and an annual music festival (like we do!).  
 Things To Do on Orcas Island
Like San Juan Island, Orcas Island is known for whale watching. You can book a group tour, take a ride on a historical yacht, captain a rented vessel, or see what you can spot from high up on Mt. Constitution. 
There are quite a few kayak rental companies and bike rental outfitters. You can even rent e-bikes! Would you enjoy a trail ride on horseback? There are options for that, too. Hikers will love summiting Turtleback Mountain on the west side of the island as well. 
For the burgeoning sommeliers in your crew, taste at Orcas Island Winery, Doe Bay Wine Company, or (one of our very favorites), The Orcas Project. Pair your wines with snacks from the Orcas Island Market and island-made preserves from Girl Meets Dirt.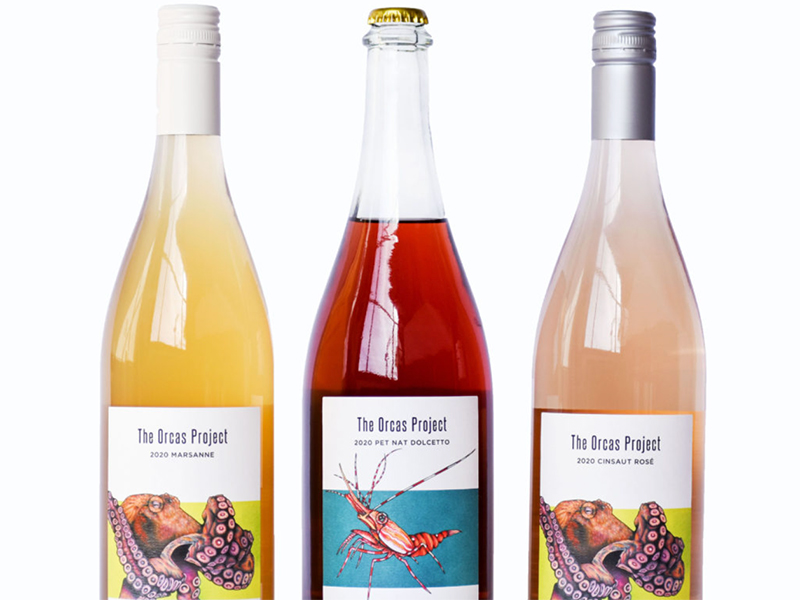 When you're all fueled up, hit some balls at the Orcas Island Golf Course before browsing at shops like Material Wit, Orcas Arts and Gifts, Darvill's Bookstore, and the many other shops dotting Eastsound.  
Our Favorite Places to Eat on Orcas Island 
One of our first stops on the island is always Buck Bay Shellfish Farm. It's similar to San Juan Island stronghold, Westcott Bay Shellfish Company, in that many shellfish are grown and harvested onsite, making for an overall fun experience and delicious eats.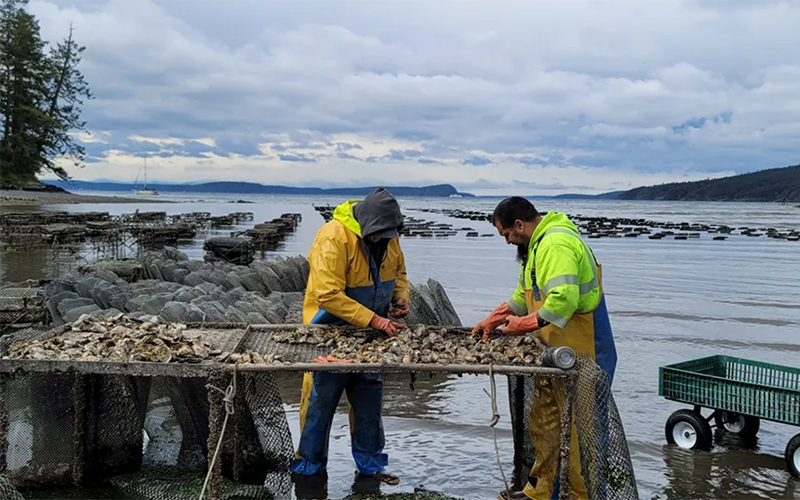 For coffee and breakfast pastries, we love Brown Bear Baking in Eastsound. If you're on the hunt for robust morning fare, try Island Skillet. Craving layered spices? The Mexican food at Majitas is excellent. There are beautiful views and fine dining adventures to experience at The Inn at Ship Bay. For brews, head to Island Hoppin' Pub. Finally, reserve a seat at Matia if you'd like to go out for a James Beard-nominated dinner or show off your foodie know-how by booking a table at Matia's new sister restaurant, Monti. 
Enjoy Your Hop to Orcas Island!
We gave you lots to work with in this guide. As far as we're concerned, expanding your trip to explore multiple islands is always worthwhile. Book your room at Lakedale today, check out our blog post detailing the differences between San Juan Island and Lopez Island, consult our guide to activities on San Juan Island here, and use all of those resources combined to start building your San Juan Islands itinerary. 
Need more help? We're just a call or an email away. See you soon!