The San Juan archipelago is becoming increasingly well-known in foodie circles. We love that. We embrace that. It means more people are coming to experience the otherworldly beauty that envelops us here. It means more people are soaking in the magic of the San Juans. It means we get to meet more of you at Lakedale! It means so many good things. Plus, with those new flights from Paine Field on Kenmore Air, it's easier than ever for all of you to experience our picks for the top 10 best restaurants on San Juan Island. 
The Best Restaurants in The San Juan Islands
As you may have heard, Matia on our neighbor, Orcas Island, was nominated for a 2022 James Beard Award. It's easy to visit as a day trip, too! We wrote about the difference between San Juan Island and Orcas Island and why we love island-hopping here. Many people know about the Willows Inn on nearby Lummi Island, which was listed as one of the best restaurants in the world in all the fancy publications that talk about those kinds of things. And while the restaurants we've listed below haven't won the big worldly foodie awards (yet), they all do what Matia and the Willows Inn do: Use local ingredients, source from the island as much as they can, and take great care of everyone who walks through their doors. 
The Best Restaurants on San Juan Island
We'll start with the restaurant right down the street from us, Duck Soup San Juan. Our list is in no particular order, and we could have made it much longer. Add as many of these to your itinerary as you can. They'll all leave you with full bellies and happy hearts. Now, onto the food.
A San Juan Island institution since 1978, Duck Soup San Juan is open seasonally and serves the freshest, most island-inspired fare. Its menu is tight, thoughtful, and artful. The flavor proportions are wonderfully balanced—we're talking burrata with prosciutto crisps, pistachio gremolata, basil, and tomato conserva (yeah, we're drooling, too)—and the cocktails are inventive. Just look at this list of garnishes for their house martini: "an assortment of garnishes, including house pickled sea beans, pimento, blue cheese or anchovy stuffed olives or lemon twist." Think fine dining in one of the coziest, breeziest cabins in the woods you've ever been to. And, if you sit outside, they'll offer you a blanket to keep you warm, even by the firepit. Don't scrimp on dessert while you're there. 
Sure, it's a brewing company, but the food here is just as good as the beers are. We're big fans of all the popcorn options to start. Order a bowl while you peruse the rest of the menu. It goes very well with your first pint—or a tasting flight. The pizzas are great, too. As are the pub pretzels. And the chicken wings. It's all delicious, truly. Two very key things about San Juan Brewing Company: Not only is it just two blocks from the Friday Harbor ferry landing, but it also has a wonderful outdoor patio, ideal for hosting a rehearsal dinner (*wink, wink*). And that outdoor space? It's dog-friendly. We can't walk out of San Juan Brewing Company without grabbing cans to go or a new piece of merch. We'd be surprised if you could.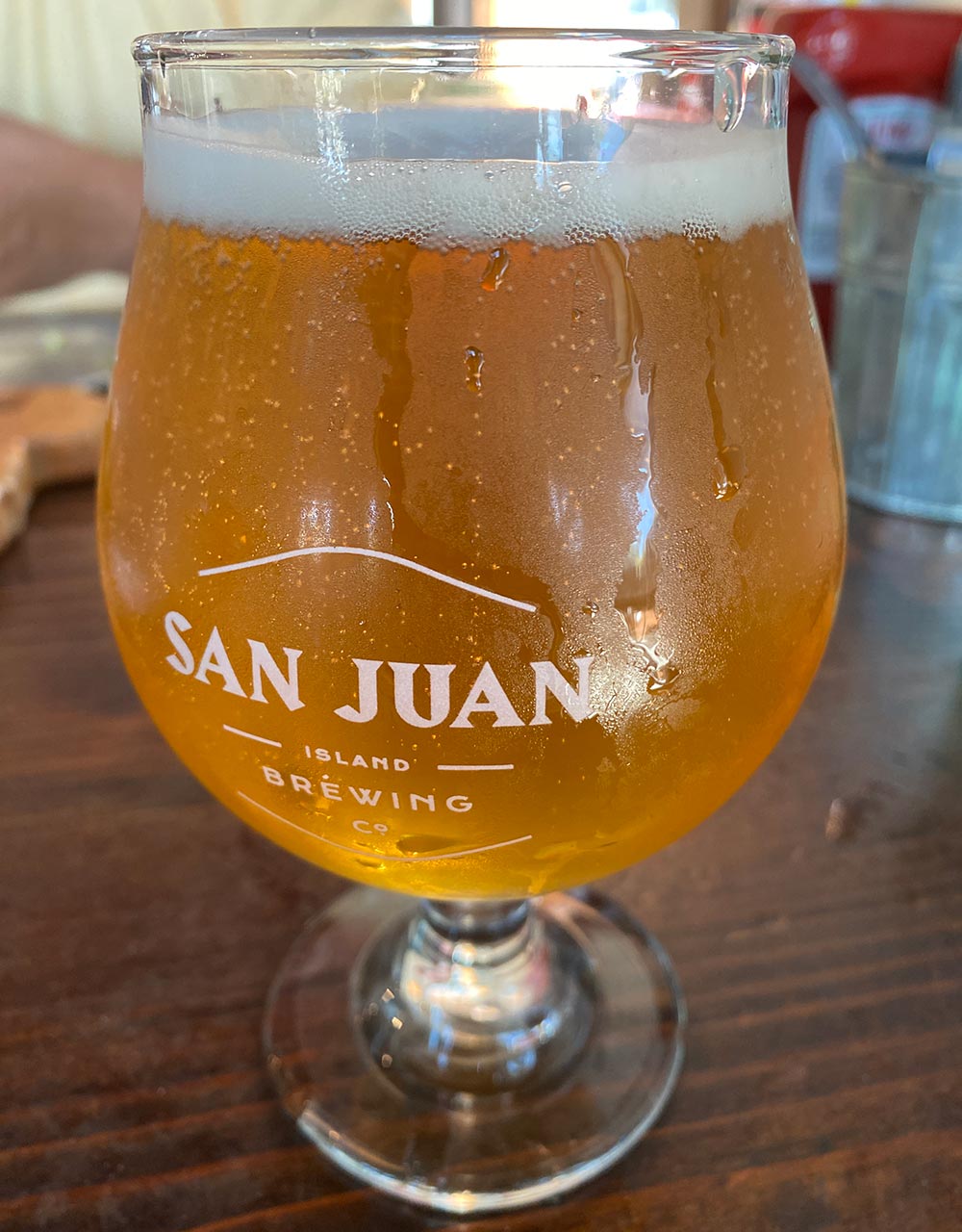 Westcott Bay Shellfish Company
When you come to San Juan Island, you must make arrangements to visit Westcott Bay Shellfish Company. It's non-negotiable. So, if you're wondering where to eat while you're here, you should already have a nice list going, and this is one spot you'll want to make reservations at early. Shuck your own oysters or sit back and allow the team to deliver them freshly shucked to you. In the warmer months, spring for grilled options—your mouth will be watering just reading the flavor combinations on the menu. They also offer grazing boards and wonderful drink pairings. The kids will stay entertained roaming the beach area, and if you're feeling somewhat ambitious, you could take a post-meal walk on the trail into San Juan Island National Historical Park.
Looking for epic water views and a great meal by the ferry in Friday Harbor? Downriggers is your spot. The views outside of the restaurant are gorgeous, and the interior is also Instagram-worthy. The menu is loaded with fresh fare from local purveyors and everything—from the food to the napkins to the bar stools—is thoughtful. Kick off your meal with an oyster shooter, order a Coconut Mojito (or a margarita), try the best of the island by savoring a Bouillabaisse (salmon, scallop, cod, prawns, mussels, clams, fingerling potato, grilled baguette), and enjoy the sunset from the deck while you enjoy the elevated camp fare of a S'Mores Pot de Creme for dessert.  
Right across the street from Downriggers in Friday Harbor is Cask and Schooner, a European-inspired pub and restaurant serving everything from pub classics (fish and chips, bangers and mash) to an artisanal cheese board. Sip on a pint and enjoy the local, fresh and organic food straight from local farms to your plate in a moody, cozy room you won't want to leave. Looking for that perfect cup of chowder you've been craving? You'll get it here! 
A fun place to change up your island eating adventures is at Greenside Bar and Grille at the San Juan Golf Club. They have super-fun breakfast fare, including veggie options like mushroom toast. For lunch, veggie fans should spring for a Scott's Cold Sammie (roasted red pepper, avocado, tomato, red onion, romaine, with mayo and gouda on sourdough). Animal-protein options include everything from a wide swath of hotdogs to a juicy Philly Cheesesteak. You don't have to know what a bogey is to enjoy this spot, just eight minutes from the Friday Harbor ferry dock. There are two tennis courts here that are open to the public, too! Between the activities and the food, you could spend most of the day at this island institution.
There is only one place for fresh, local Italian food on the island, and Vinny's is it. This cozy restaurant is one of those unicorn types that simultaneously manages to be casual and elegant. It offers Pacific Northwest seafood and steak alongside Italian specialties like Chicken Parmesan and Vinny's Spaghetti. Whatever you do, don't be shy about asking for wine and cocktail pairings for whatever you end up ordering—offering their suggestions is one of team Vinny's favorite pastimes, and they're always right on the money. 
Let's say you're looking to get something beautiful, delicious, and possibly to go, especially if you're planning to scan for whales from your perch at Lime Kiln Point State Park. Picnik, just steps from the ferry in Friday Harbor, is your spot. From their very San Juan Sea Box (Cured Salmon. Roe. Boursin. Sesame Cucumbers. Pickled Onion. Seasonal Fruit. Sea Salt Crisps) to their Roche Sandwich (Shrimp Salad with House-made Dill Dressing, Red Onion & Capers on French Baguette), there is a fancy and fun snack for everyone in your party, including the kiddos! Picnik has a Kidnic box with munchies for the littles that will leave them satisfied. This spot is seasonal, so be sure to pop in next time you're visiting during the warmer months!
The Restaurant at Friday Harbor 
The menu rotates so frequently at The Restaurant at Friday Harbor that your tastebuds will be dancing every time you visit San Juan Island. The culinary team forages multiple times each week, and is often spotted closely examining the produce at the summer farmer's market. Eating here is an immersive experience—between the sweeping views of the water and docks and creative craft cocktails, all of your senses will be abuzz with island happenings. Plus, you can add a CBD shot to any beverage you order for an extra dose of zen. 
On the other side of the island, McMillin's Dining Room sits above Roche Harbor Marina like a pearl atop an oyster. Not only is it a sight in its own right, but it's also a must-do fine dining experience on the other side of the island with its own equally magical water and marina views. Whether you're in the mood for a 40-day dry-aged Prime Rib or more fresh seafood from local San Juan waters, you may want to consider wearing adjustable pants for your meal at McMillin's. Popping a button would be in poor taste, but we don't police for etiquette on the islands. We're too busy enjoying all the gorgeous bounty! Plus, that's a compliment to the chef, right? If you plan to spend more time in Roche, be sure to check out the other restaurants on the property: Madrona Bar & Grill (more casual), Lime Kiln Cafe (great for breakfast), and Beechtree Espresso (coffee, pastries, and ice cream). 
So, are you drooling yet? 
We gave you a lot to work with here. From Friday to Roche Harbor and sea to land, your belly will be happy on San Juan Island. Visiting our neighbors to experience even more of what the islands offer would be more of a proverbial cherry on top of an already epic culinary adventure. 
You probably noticed fresh, local, and rotating themes in the restaurants we listed here. Of all the things that make eating on the islands special, those are probably our favorites. We always like to talk about the places we love with you, so feel free to call us any time, send us a message on Instagram or Facebook (@lakedaleresort), or stop by the front desk the next time you're here. See you soon, and happy eating!