I'll admit it: I'm a huge fan of the holiday season.  The music, the decorations, the lights, the food, and spending time with friends and family all come together to make this "The most wonderful time of the year"!  If you're like me, you've been caught once or twice in your life listening to those Vaughn Monroe, Andy Williams, and Bing Crosby classics in June or July.
Although, if many of the blogs, social media feeds, and news outlets are to be believed, the holidays can be an absolute nightmare.  Words like "madness", "chaos", "congestion", and "crushing crowds" are all tightly woven into the fabric of any holiday discussion these days.  "STRESS!"  Everyone seems to have their list of tips and tricks on how to "beat the holiday rush", or how to "survive the holidays".  Well, at the risk of being unoriginal, I've got a tip for dealing with the pressure of the holidays as well: Avoid the stress in the first place!
Why just survive this holiday season when you can take a breath and actually enjoy it?  While San Juan Island is known best for its abundance of summer activities, we've also perfected the recipe for winter relaxation and holiday fun!
Island Lights Festival
Don't let headlights and tail lights while being stuck in traffic dominate your holiday light experience this year.  We kick everything off in Friday Harbor on Friday, December 1st with the Island Lights Festival!  The fun starts at the Whale Museum with treats and crafts, followed by a walk to Memorial Park for hot chocolate, cookies and caroling for everyone to enjoy.  While Santa Claus is a pretty busy guy this time of year, he still makes time to come out and do his part.  Santa will light the tree, then lead everyone up to Brickworks for pictures, arts and crafts for the family, and fresh local harvest soups and apple cider!
Holiday Shopping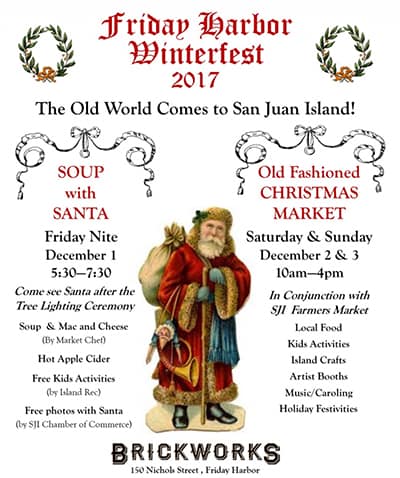 Shopping for gifts for loved ones shouldn't be a hassle, or even boring.  After the Island Lights Festival, on Saturday & Sunday, December 2nd & 3rd, Brickworks will be hosting their annual Old-Fashioned Christmas Market.  Step back in time with this European-style market featuring island crafts, local food vendors, farm produce, live holiday music, and a spirits garden.  Cookie decorating, pony rides, and visits from the Sugar Plum Fairy will ensure that the whole family has a magical time!
I really only have one rule in life: "No Coffee, No Workey".  Actually, I don't do much of anything without coffee.  Fortunately, Riptide Café, my favorite place to get a latte on the island, has people like me in mind as they get set to host their first ever Shop & Sip event.  Guests will be able to shop San Juan Island and Pacific Northwest items, including handmade goods, jewelry and clothing made by local and regional artists, all while enjoying complimentary wine and hors d'oeuvres!  Shop & Sip happens on December 13th & 14th from 4:00pm – 9:00pm, and all day on December 23rd.
New Year's Eve at Lakedale!
Now that you're so relaxed, why not cap things off with a smooth New Year's Eve party?  Lakedale will be hosting its second annual New Year's Eve celebration featuring the Brian Nova Trio on December 31st, 2017.  World renowned jazz guitarist Brian Nova is back with his trio to help you start 2018 on the right foot…even if you've got two left feet like me!  The festivities start at 8:00pm with an amazing Black & White Dinner from the dynamic chef duo, Matia, from Orcas Island.  Squid Ink Brioche with Caviar, Scallop Crudo with Black Raddish, Steamed Black Cod, Short Ribs with Black Truffles and Celeriac, Black Sesame and Pears with Sweet Rice, and a Chocolate Éclair with Vanilla round out the menu, and it all gets paired with delicious Pacific Northwest wines!  Fabulous food and magical music…all in an amazing atmosphere?  I told you we've perfected the recipe, right?
Doing Absolutely Nothing at All
Of course, I can't forget about my favorite winter activity: doing absolutely nothing.  Come out and decompress from the daily grind, or that stressful holiday season if you skipped the first part of this post.  Personally, I'm a fan of books and blankets in the cold weather, but I know plenty of people who are just as happy bundling up and going outside for a nice peaceful walk in the woods.  And you know what goes best with both of those "activities"?  That's right…and my coffee mug needs a refill!
Happy Holidays Everyone!