It's not a very well-kept secret that the rhythm of life on San Juan Island is largely driven by the seasons, and because Lakedale calls this beautiful place home, it shouldn't surprise anyone that we move to a similar beat. 
The "s" in summer stands for "sun," and all of the awesome outdoor activities that come along with this gorgeous environment. Lakedale is known for summer fun, and it's what we absolutely love! So, if we're all moving, shaking, and having fun from May through October, when do we have the time to get our projects, remodels, and upgrades done? Well, guess what the "w" in winter stands for? Everyone has heard the phrase "roll up your sleeves and get to work," but it gets pretty cold outside here in the winter, so we put on a few extra layers and get to work with our sleeves rolled down—and often wearing gloves—instead!
We expect that you're probably busy with winter and spring projects yourself, so our thanks to you for taking a break from your own to-do list to see what we've been up to this off-season, and what we've got planned before the upcoming fun season.
The Log Cabin hot tub is back on the menu, now with more salt!
Many of our guests that have stayed in Lakedale's Log Cabins in the past will remember that we have a hot tub gazebo for guests staying in those accommodations. We've had that facility closed since 2020, but we think it's time for it to re-open!  
We gave the gazebo building a full overhaul, including paint, stain, and windows, and we gave it a new roof.  The building is just the garnish, however, and we weren't going to just stop there. We removed the old hot tub, and replaced it with a brand new 6-person saltwater hot tub! You might have noticed that we are fans of hot tubs around here, with each of the 7 Yurts boasting its own private tub on the deck, so we're very excited to be bringing our Log Cabin guests a similar soaking experience. 
Log Cabins don't always have to be…"rustic"
We've always been proud of the fact that our Log Cabins and Lake House are able to maintain the look and feel of legitimate log-on-log structures, without the sacrifice of amenities that typically comes with buildings of their kind.  Pardon our language snobbery for a moment, but we might use the word "rustic" to talk about a cabin that had an outhouse, and no electricity, but that's not a word we'd use to describe something that has fiber-optic wireless internet, flat-screen TVs, and full kitchens. Of course, we do still like to maintain a nice balance between modern functionality and that cabin in the woods simplicity, and so we tinker with these offerings quite often.
You might remember that last year we put new, larger beds in all of our cabins.  This winter we gave the cabins another little furniture facelift. We pulled all of the older armoires that took up a lot of space in the bedrooms and installed some shelving and benches that open up quite a bit of room in those spaces.  The living rooms also received some love, with new upholstery for the chairs, and new storage trunks.
The to-do list was quite a bit longer for the Lake House this off-season: new area rugs, new chair upholstery, and new end and coffee tables were the highlights for the living room. All of the countertops, sinks, and hardware in the kitchen and the bathrooms were completely replaced, to go along with a refinishing of all of the cabinetry. The kitchen also received a brand new, in-counter stove top, and a new refrigerator is on its way as we write this. A new table and chairs, perfect for playing board games, found their way into the loft upstairs as well. 
The RV Revamp
RV and trailer camping has always been a popular thing on San Juan Island, despite the fact that getting here requires taking at least one ferry. In fact, before the Lodge and Log Cabins were built, just over 20 years ago, Lakedale consisted entirely of sites for tent and RV camping. Lakedale has evolved quite a bit over those two decades, and we took the RV campsite collection down to five sites about eight or so years ago.  
The majority of our guests who bring RVs to Lakedale actually appreciate the fact that our sites aren't perfectly-squared, concrete slabs in a parking lot configuration, and they love that the sites are among trees to the degree that they can be. That being said, we felt that the sites could be improved a bit, and so we did quite a bit of work on that area over the off-season.  
We did a lot of dirt work to widen and flatten the sites, and we put in new water and power lines, with new hookup boxes to boot. The reorganization of the space also gave us the ability to add another site, without having to remove any trees! Lakedale's RV campsites are now a little wider, and a little flatter, but they still retain that "in the woods" feel that our guests know and love!
So long Airstream, thanks for all the memories!
All of our repeat guests will know that we've had a vintage Airstream trailer as a rentable accommodation here at Lakedale for many, many years. We gave it a complete overhaul in 2012, and it has been one of our more popular "rooms" ever since. We removed it as a rentable offering back in 2020, and we've decided that it's time for it to find a new home. 
The Airstream was centrally located, in a pretty prime spot here on the property, that literally, everyone could see, so what do we do with that space now that it's gone?  Well, we've decided to put in a new common area for all of our guests to enjoy!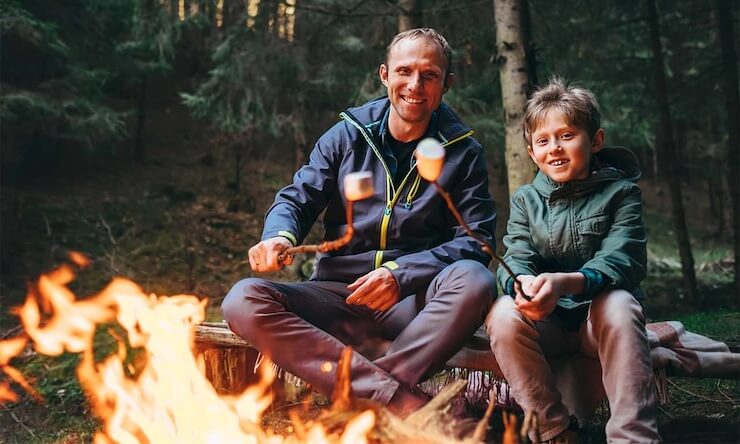 There will be a deck that overlooks Neva Lake, where guests can hang out and enjoy the lake view, or even cast a fishing line if they like. The space will also feature a fire pit and seating for some year-round outdoor relaxation. Work on this area began on the 1st of April, and we're hoping that it'll all be ready before the summer really gets going.  We're sad to see the Airstream go, but we're also very excited about our plans for this area because we think it'll be a hit for our visitors!
Thanks again for stopping by to have a look at what we've been up to over the past few months.  And whether you're looking to stay in one of our Yurts, Lodge Rooms, or Log Cabins, or if you're more into the Camping or Glamping style of vacation, we've got you covered!  
See you soon!