We've said it before and we'll say it again: Nothing quite compares to the breathtaking scenery, friendly faces, and unique vibes of San Juan Island. From delicious local cuisine to activities for folks of all ages—not to mention swoon-worthy natural backdrops fit for any Instagram feed—it's no wonder that San Juan Island attracts countless visitors year-round. And while the island may be a much-needed escape for travelers from afar, it also packs plenty of punch for Pacific Northwesterners looking to discover (or rediscover) the magic of the area.
Whether you're visiting for a day or logging an extended stay, we know you'll fall in love with all that San Juan Island has to offer. To help you make the most out of your time here, we've curated 10 things that need to be added to your San Juan Island bucket list
1. Rent a boat or charter an island boat tour
Ranked a top 10 island destination in the U.S. by Travel + Leisure magazine, San Juan Island offers new and experienced seafarers abundant options to get on the water. To create your own adventure, charter a sailboat and put your skipper skills to the test. For a different kind of fast-paced fun, several outfitters also rent power boats that will have you cruising in no time. And if you're looking for someone else to do the heavy lifting (err, boating), seek out a boat tour operator who can navigate the waters for you. Take it from us: No matter how you do it, exploring San Juan Island by boat is something you won't regret!
2. Write your own fish tale
As you know, there is no shortage of destinations for anglers in the Pacific Northwest. The same is true on San Juan Island, which boasts saltwater and freshwater fishing opportunities for people of all ages. If the sea is calling you, expect to find salmon, lingcod, halibut, and more tugging on your line. In San Juan Island's many freshwater lakes, rainbow trout and largemouth bass are what you're likely to catch. Need help reeling in The Big One? San Juan Island Fishing Charters offers seasonal charters for select varieties of fish—and they provide a one-day fishing license and all the gear you need for a successful outing. We also fill our three spring water lakes with fish each spring—you can buy a fishing license at The General Store and see if you can catch a trout worthy of our display board! 
3. Go on a whale-watching adventure
Of course, we'd be remiss if we didn't recommend a San Juan Island whale-watching trip. While there are several locales on the island suited for spotting whales—including Lime Kiln Point State Park (officially nicknamed "Whale Watch Park")—we're big fans of guided boat tours where you'll have a better chance of seeing these incredible marine mammals up close. Prime whale watching time is typically between May and October each year, and a number of organizations offer full- and half-day tours to fit any schedule. No matter which route you go, remember to bring your binoculars!
As a local, we know you're aware of the cultural significance of whales to the PNW. That said, we'd still recommend a visit to The Whale Museum, located in Friday Harbor and open from 10 a.m. to 4 p.m. daily. You'll likely learn something new—and support a great cause in the process.
4. Explore the island by kayak
For an adventure on the sea that's at your pace, consider renting a kayak to get up close and personal with San Juan Island's stunning scenery and wildlife. Several outfitters call the island home and offer tours of different lengths to fit the schedules of all visitors. From exploring hidden coves to gliding among all kinds of sea life, touring San Juan Island by kayak is sure to be an experience you won't forget.
5. Relax and recharge with exceptional beer, wine, and spirits
After a busy morning exploring the island, take an hour or two (or three—we're not judging!) to relax with a beverage crafted with local ingredients. Friday Harbor has plenty of options that will wet your whistle, including Wescott Bay Cider, San Juan Island Distillery, Madrone Cellars & Cider, and many more. One of the town's newer additions, the family-friendly San Juan Island Brewing Co., features American pub fare (and some say the best pizza on the island) to help you refuel and also offers non-alcoholic drink options such as soda, juice, coffee, and tea.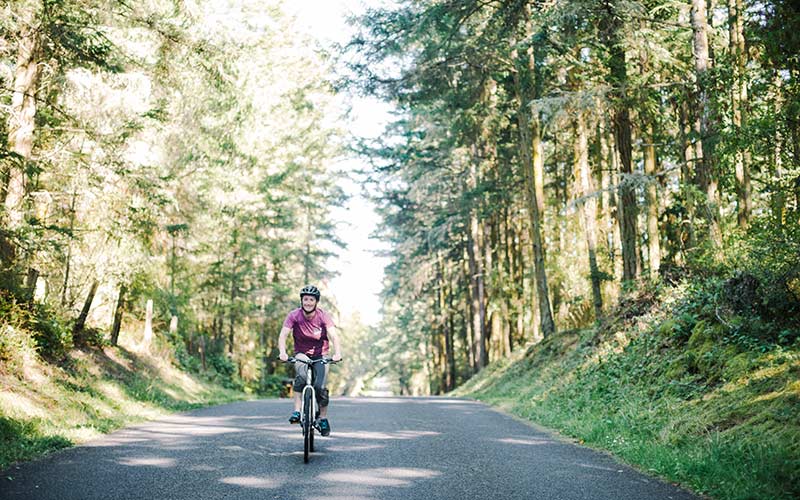 6. Bike or hike your way around the island 
Those willing to put in a little legwork—whether by biking or hiking around San Juan Island—are sure to be rewarded with panoramic views like no other. Cyclists on the island enjoy a plethora of opportunities to explore their own way and can also take advantage of expert-led bike tours. Folks looking for a more leisurely, enjoyable ride might consider renting an e-bike (10/10 would recommend this option!).
If you're keen on exploring by foot, San Juan Island possesses some of the region's most incredible hiking trails. With a variety of distances and elevations to choose from, there's a hike for everyone of all ages and abilities to enjoy. Trust us when we say the breathtaking scenery is well worth the effort!
7. Hit the links for a mid-afternoon round of golf 
The San Juan Golf & Tennis Club features expertly manicured greens and a nine-hole course that's up to par for amateur and experienced golfers alike. Two sets of tee boxes in different locations make this course unique and give it a true 18-hole feel. If you're keeping score, the Pacific Northwest Golf Association rated the links-style course as one of the best nine-hole courses in the region.
And no need to lug your own equipment with you. A well-stocked pro shop and large selection of rental clubs mean you'll be teeing off in no time. May the 'fores' be with you! Pro tip: If golf isn't your jam, the San Juan Golf & Tennis club, naturally, lays claim to two well-maintained tennis courts that can be reserved at the pro shop. Tennis surrounded by the scenic beauty of the island—that's what we call a match made in heaven.
8. Step back in time at the San Juan Historical Museum
Immerse yourself and the kiddos in the history of San Juan Island with a visit to the San Juan Historical Museum. A perfect stop in all kinds of weather, the museum welcomes visitors by sharing and interpreting the story of the native peoples of San Juan Island. While you may have learned about the island as a child in school, a visit to the museum provides opportunities for guests to walk the grounds, explore the restored James King farmhouse, see the original county jail, and peek inside the rich history and blend of cultures that have shaped the island throughout the centuries.
Tours of the buildings and grounds are self-guided (unless otherwise requested), giving you the freedom to squeeze in a visit during your jam-packed stay on San Juan Island.
9. Enjoy outdoor art creations
Home to more than 150 stunning creations by world-renowned sculptors, the San Juan Islands Sculpture Park is a must-see attraction no matter how long you're here. With five marked trails and a natural pond, the 20-acre park attracts 40,000+ visitors from around the world each year. If you've visited the park before, don't be shy about a return trip. Because sculptures are frequently rotated and sold, you're in for a new experience every time.
If you're visiting the island with your furry friend, bring them along to the sculpture park, too! Well-behaved dogs are welcome. But, don't be a turd—please clean up after your pooch. More to explore: Art connoisseurs seeking additional activities are sure to keep busy thanks to San Juan Island's bustling arts scene.
10. Indulge in chef's kiss-worthy chocolate
As you know, PNW cuisine is as delectable as it is varied. And while there are too many delicious eateries to mention, one Friday Harbor establishment serves up desserts to appease any sweet tooth. Friday Harbor Chocolates sources handcrafted chocolates from accomplished chocolatiers throughout Washington, Oregon, and California—and even offers port and dessert wine tastings for you to sample and purchase.
With custom gift boxes and party favors for any occasion, there's no reason not to bring some chocolatey goodness home with you. Whether you plan to end your night with a sweet treat or hit this unique business on your way out of town, remember that dessert is always a good idea!
Stay awhile!
San Juan Island offers an escape from city life that will have you extending your out-of-office message just a bit longer. If your day trip turns into an overnighter, give us a call. Our stunning resort is the perfect home base for all your island adventures. From glamping in one of our yurts (hot tub included!) to a cozy stay in one of our dog-friendly log cabins to nabbing the perfect lakeside RV spot, there's a place for everyone at Lakedale.
Book your stay online or call 800-617-2267 to reserve your space. We can't wait to see you!