Bringing your family to the islands is a commitment. It takes a lot of planning, packing, and various modes of transportation to get to San Juan Island, so we understand that there's a sense of wanting to ensure it's the best trip ever once you arrive. With a little pre-planning and our handy itinerary, we're confident your kids will be telling everyone what a great time they had on San Juan Island. And so will you!  
There are a lot of ways we could organize this trip (Kenmore Air is a great option that we don't mention below because we realize leaving the house with kids means packing the whole house and Kenmore's low weight limits make that a *titch* more difficult. We're over-indexing on the harder ages of traveling with kids when every outing requires a lot more stuff), so use it like brave people use recipes: as a guide rather than a rule. Yeah? Okay? Okay, here we go.
Day 1
You're on vacation, so no need to rush and get up early. Make your reservations in advance (check the WSDOT website for the latest regulations and reservation tips) and drive on to the 11 a.m. ferry out of Anacortes. Trust us about the reservations. You're going to regret not having them, especially if you didn't pack a ton of snacks. Pro tip: Always over-pack on snacks! Take in the beautiful views as you cruise a little over an hour to get to Friday Harbor. Once you dock, you have a few options. Lakedale's check-in is 4 p.m. typically, but you can call ahead to see if your room is ready. We're also doing contactless check-in and check-out, so you can drive up to the Lodge and look for an envelope with your name on it that holds your keys, a property map, and general tips and tricks. 
The 11 a.m. ferry unloads a little after 1 p.m., perfect timing for lunch somewhere on the island. For a quick eat, The Bait Shop has wonderful fish and chips and is right downtown Friday Harbor. We're also partial to Downriggers, which is a little fancier but has a fantastic view. Yelp is your friend here—we've found the reviews to be mostly accurate for eats around the island. 
If you choose to unload at Lakedale and head out for a late lunch or early dinner, we recommend a reservation at Westcott Bay Shellfish. Their hours can be somewhat variable, but if you check early enough, you'll be able to nab a seat and drive right there. The views from the restaurant of the oyster farm and bay are beautiful and you can even grab fresh seafood to go! Plus, if you're sitting outside, they have blankets to keep you warm. It's kid-friendly, and while they don't offer a kids menu, if your littles eat bread and/or have foodie proclivities, they will be fine. If not, pack a snack!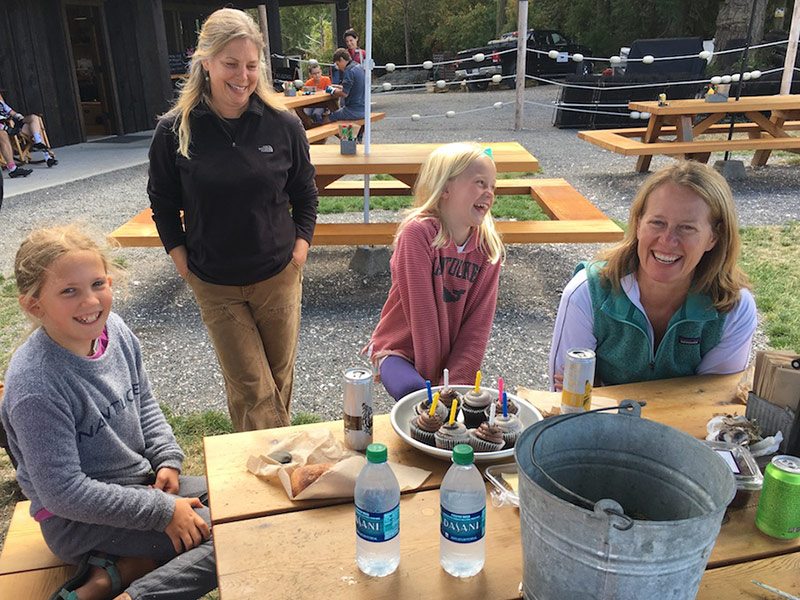 Back at Lakedale, pop into the Lodge to survey our impressive DVD collection for your log cabin (Yurts come equipped with Smart TVs). If you're looking to get away from screens, we have lots of games as well—many cabins have some already inside and your check-in docs include a list of all the games we keep at the front desk. 
Day 2
This is your full day to pack with activities, so take advantage! We recommend starting Day 2 with your most ambitious adventure, which could be a wildlife tour or other boating excursion. Wear layers and keep your eyes peeled for wildlife sightings. We like Maya's Legacy as well as a few other outfitters on the island. You can find all of our recommendations here.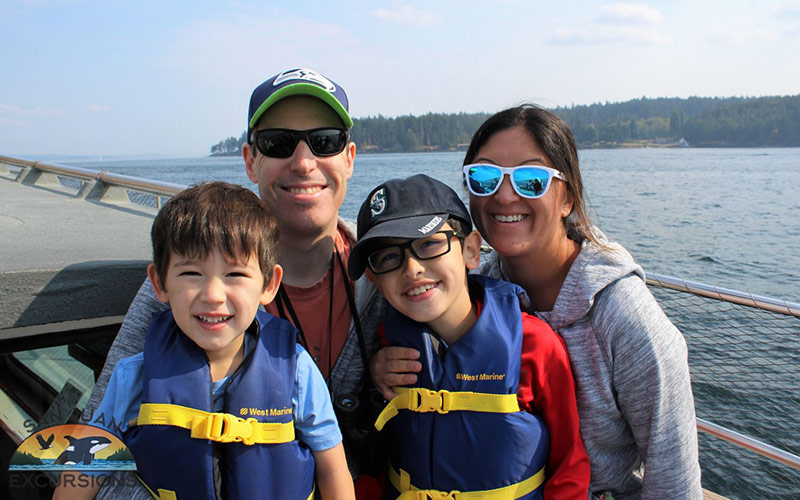 Most tours depart right from the marina in Friday Harbor, which has several cute gift shops, as well as ice cream shops nearby (the one right at the docks is cash only, but Yo! Friday Harbor up the block takes cards and has ice cream from our friends at Lopez Island Creamery). Orcas are usually in the area between May and October, but spotting them isn't necessarily guaranteed. You'll have a great time regardless because there are all sorts of amazing creatures all over that your guides will be sure to point out! 
Morning wildlife tours end around lunch and, if you're like us, you're going to be really hungry. Just like yesterday, Yelp is your friend. Our favorite places to eat are slightly off the main drag. We like to spend the afternoon eating in Friday Harbor and popping into the shops. If you're here on a Saturday in the summer, be sure to stroll through the farmers market at Brickworks and grab a smoothie at A Tight Squeeze. 

One of our favorite places for a casual, kid-friendly dinner is at San Juan Brewery. They have a beautiful outdoor/indoor space a mile or so from the marina. After dinner, load up into the car and take a scenic drive over to Lime Kiln to watch the sunset and look for whales. Don't forget your Discover Pass!  Or, if your kids are old enough, drop them back off at Lakedale, freshen up, and head over to Duck Soup for a delicious, multi-course meal just across the street from us. 
Day 3
More adventures and exploring await on Day 3! If your kids are older (8+), they'll love a tour of the island with Susie's Mopeds. The side-by-sides are particularly fun for the whole family. If your kids are younger, consider taking a self-guided tour of the Pelindaba Lavender Farm or the San Juan Islands Sculpture Park. You can take a driving tour of the island, too, with stops to go tide-pooling at South Beach and a short hike up to Cattle Point Lighthouse. 
Back at Lakedale, take advantage of all our family-friendly activities like fishing, boat rentals, SUP boards, bikes, big outdoor games like chess and checkers, tie-dye, or other crafting in the Activity Tent (seasonal), and so much more. There are endless opportunities to play at Lakedale—and that is by design! For dinner, consider grilling something you brought or take a short drive over to Madrona Bar & Grill at Roche Harbor Resort for delicious fish tacos. Whatever you decide, you'll all crash into bed happy-tired at the end of the night. 
Day 4
On Day 4, it's time to slowly get moving and head home. We're so sad to see you go and we know you may not have been able to do everything on your list, so we hope to see you again soon. If you're on a mid-morning ferry home, get in line early and take a short walk to grab a coffee and pastry at the Crow's Nest or Salty Fox Coffee. Also consider a lap around Griffin Bay Bookstore and grabbing any last-minute souvenirs. 
Whatever adventures you decide to take, we hope this list gives you plenty of ideas. Be sure to tag us on social media if you take any of our recommendations! We're @lakedaleresort on Instagram and Facebook.