Since our last post on "Yurts – Reinvented", we've opened all seven yurts in our new Yurt Village! With only minutes to spare (yes, really) before our first guests appeared, the bath hardware was installed, construction dust was swept out of nooks and crannies, and hot water was brought up to soaking temperature in the hot tubs on the decks. It was a long birthing process for our septuplets, but we think you'll agree, they are pretty fantastic!
From the moment you arrive at your yurt (we supply wheeled carts to help you transport your luggage), you'll feel like you're at home – all the comforts, yet in the heart of nature, surrounded by 100-foot tall fir trees and a wrap-around lake called "Fish Hook".  We wanted to treat you to a fresh look at glamping – no dusty old brown and green color schemes for us! Bright blue and marigold keep the cheerful modern vibe going throughout the yurts (which means "home" in Mongolian).
The wet bar is outfitted with a microwave and ample refrigerator, as well as a sink, bright marigold dishes, and pots and pans for cooking on your outdoor BBQ with side burner. The bright blue sofa in the living area converts to the most comfortable queen-size sleeper you've ever tried, in fact, you may be fighting the kids to sleep there. Or they may be joining you in the pillow-topped king bed to watch your favorite episode on Netflix – on the 48″ TV. If you need to while away an afternoon, cozy up in the rocking chair with our custom designed blanket, and dig into that summer thriller. Nope, this ain't your grandpa's yurt.
No heading to the communal bath house in the middle of the night, either…a full bath with curved glass shower doors is yours for your stay, accessed by a smooth-sliding barn door. And since we're all about the outdoors, you can't beat the giant wrap-around deck with plenty of seating and the hot tub, just for you and your besties. Skinny dipping optional.
Lakedale has been evolving for over a decade now. Throughout this evolution, however, one idea has remained virtually unchanged: Taking a break and disconnecting are good!
We've come to realize that these things can mean completely different things to different people. Whether it's camping or glamping to get away from the daily grind, getting together with friends and family in a Log Cabin, or spending a romantic weekend in the Lodge with that special someone, we've always had a lot of the bases covered. And with the addition of the yurts, we're excited to offer our guests the option of glamping year-round!  Warm and wonderful winter glamping, sounds great to us.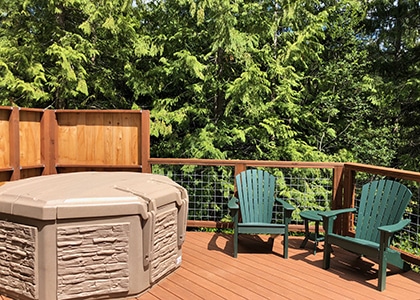 So, whether you're an accountant, a school teacher, a firefighter, or a conquering emperor…we've got your vacation plans covered. (Although we may require advanced reservations to accommodate your conquering horde!) Remember that the word "yurt" means "home"? Welcome to Lakedale Resort on San Juan Island, your Yurt away from Yurt!
San Juan Island has more than its share of gorgeous natural attractions, which is one reason our guests love to visit. Starting with the ferry ride across the Salish Sea, to the drive through the island to arrive at Lakedale with peaks of Mt. Baker and glimpses of pastoral farmland and forests along the way, it's easy to lose yourself in the island's beauty. But we'll fill you in on a local secret…there are some great events that happen all summer long that you may just have to add into your romantic vacation, weekend getaway, or family adventure!
Here are some of our favorite special events happening on San Juan Island this summer:
Summer Family Art Days – Most Saturdays June 16 – August 25
Sponsored by the San Juan Islands Museum of Art, grab the whole family and spend a summer afternoon with local artists creating your own masterpiece. Set outside at the museum with materials provided, you'll produce a take-home project that relates to the current First Nation exhibits on view at the museum this summer. For more information on what each Saturday's theme will be, take a look at the museum's website. The events are free, with donations happily accepted. San Juan Islands Art Museum
2nd Annual Port of Friday Harbor Pirate and Wooden Ships – June 22 – 24, All day
Aurghhhh mateys! Get your pirate patch on and head down to the docks for the second annual Pirate and Wooden Ships Festival sponsored by the Port of Friday Harbor. Tour historic old ships, take a day sail, enjoy live music, delicious food, games for the kids, and much more! Free admission, and details can be found at Port of Friday Harbor
Music on the Lawn – Wednesdays, from June 27 to August 8, 6:30 p.m. – 8:15 p.m.
Rock your midweek with the summer concert series every Wednesday on the grounds of the San Juan Historical Society (425 Price Street). With bands playing everything from bluegrass to country to classic pop/rock and roll to funk/Latin/reggae, this summer series will get you up and dancing. Bring a picnic, a lawn chair or blanket and enjoy a great evening of free music! For a complete list of all the upcoming concerts, contact San Juan Island Parks and Rec.
Friday Harbor Fourth of July 4                                                                                                         
Close your eyes and imagine the perfect small-town Fourth of July celebration…we think Friday Harbor's is it! The entire town gathers on Spring Street at 10:30 a.m. for the parade…local businesses, community groups, (and whoever wants to join in, including dogs) cheer and throw candy to happy kids. The theme for this year's parade is "Music of America", celebrating music through the decades.
After the parade, the Kiwanis Club hosts the annual Pig War Picnic at the San Juan Historical Museum grounds (great BBQ!) with live music. Roche Harbor Resort, at the north end of the island, offers an Old Fashioned 4th of July with a doughnut eating contest, blindfolded dinghy races, and log rolling contests.
At the end of the day, grab your kids, your honey, your blanket and be ready to relax with magical fireworks reflecting over the port of Friday Harbor (and also at Roche Harbor). And if you haven't had enough fun, head to the "Rock the Docks" dance party at the marina at the end of the night! Learn more about the festivities at San Juan Island Fourth of July Celebration.
Island Stage Left Theater, "The Tempest" – July 11 – August 12
One of the island's treasures, Island Stage Left has been performing Shakespeare's plays in the San Juan Islands for the past twenty years. This summer, the troupe presents "The Tempest", Shakespeare's last solo work –  blending magic, spirits, love, treachery, and forgiveness, and one that will delight all ages. The performances occur on all the San Juan Islands (San Juan, Orcas, Shaw and Lopez) and the suggested donation is $20. Please check with Island Stage Left for times and locations.
San Juan Island Lavender Festival – July 21-22, 10:00 a.m. – 5:00 p.m.
The lavender fields of San Juan are one of the island's most beautiful attractions—and certainly the best smelling! Pelindaba Lavender Farm sprawls across 25 acres of land. Stroll through purple-flowered fields, enjoy lavender-based snacks, ice-cream and lemonade on the lawn, and shop handcrafted lavender products. You can harvest your own bouquet straight from the field, weave a wreath, or watch live lavender-inspired demonstrations. And if you miss the festival, don't worry—the fields are open all summer. Pelindaba also has a store in town if you can't make it to the farm. Whatever you do, don't forget your camera! Leashed dogs are also welcomed. More details can be found at San Juan Island Lavender Festival.
National Historical Park Encampment – July 27 through 29 – 9:00 a.m. – 4:00 p.m.   
Many historical reenactment groups recreate famous battles but here on San Juan Island, we reenact peace! This summer will be the 18th reenactment of the joint occupation of San Juan Island by British and American forces from 1859-1872, when a war almost erupted over the death of a pig. The participants live like mid-19th century Royal Marine light infantry members and pioneers, demonstrating blacksmithing, weaving, and black powder muskets, among other activities. The annual Candlelight Ball will be held on Saturday night in the English Camp barracks, where you can party like it's 1859! All the scoop is at National Historical Park Encampment.
Third Annual San Juan Summer Arts Festival – Fridays, August 3, 10, 17, 24 and 31 – 4:00 p.m. to 10:00 p.m.
 Why have just one arts festival, when you can have five? Celebrate the creative spirit of the island every Friday evening in August with over 25 art vendors, delicious food from local vendors, local beer, wine and spirits, live music, tarot card readings, henna tattoos, art stations, and so many more surprises. Get in the artsy spirit with this fun-filled event! Check out the details at San Juan Island Summer Arts Festival.
San Juan County Fair – August 15 – 18, all day and into the night 
Much like the Friday Harbor July 4th celebration, the San Juan County Fair takes you on a nostalgic trip back to the good old days. For four fun-filled summer days and nights, islanders celebrate with exhibitions (think floral, baking, photography, arts and crafts to name a few of our favorites), 4-H demonstrations and judging (you can buy a pig, cow, or sheep), the Trashion Fashion Show and the Zucchini 500 race (we'll let you guess about that one).Fantastic food food vendors and live music add to the magic country fair ambiance. Come one, come all to the San Juan County Fair!
Concours d'Elegance of the San Juan Islands – August 26 – 11:00 a.m. – 3:00 p.m.
Sponsored by San Juan Vineyards, where the event is held, the 12th Annual Concours d'Elegance tops off the San Juan Island summer. Admire rows and rows of classic and unique cars (while sipping wine, of course!), eat great food, and listen to live music by the Argyle Street Jazz Band. Sounds like a great way to end the summer to us! Get all the info at Concours d'Elegance.
Always Something Fun Going On!
Check out our summer-long ideas for outdoor activities on San Juan Island, including biking, kayaking, visiting San Juan's alpaca farm, whale watching, and so much more. There's always something fun to do on San Juan Island!
And for a relaxing place to return to after your day's adventures, book your Lakedale lodging now! We're located in the heart of the island on three gorgeous lakes, and we can't wait to be part of your summer fun!
One of the best things about San Juan Island and Friday Harbor is the small town vibe…no stop lights, lots of local stores and the fact that we LOVE the 4th of July! 
As a matter of fact, we even have a beach on the island called 4th of July Beach!
The day starts with a bang (literally) with the sound of cannons booming over the harbor…a wonderful wakeup call and a reminder to head down to Spring Street (Friday Harbor's main drag) to save your seat for the 4th of July Parade!
Bring a folding chair or blanket, wear your patriotic duds, and snag some coffee at one of the many java stands on Spring Street while you wait for the 10:30 a.m. parade start.
The theme for this year's parade is "Music of America", celebrating music through the decades. Be prepared for lots of funny floats, candy-throwing, live bands, animals, dancing, historic costumes, and a sea of red, white and blue!
After the parade, meander over to the San Juan Historical Museum grounds (405 Price Street), a short walk from the parade route, and celebrate at the Kiwanis Pig War Picnic, (starting at 11:30 a.m.), a historic nod to the border confrontation in 1859 between Britain and the United States, in which the only casualty was a pig.
Fittingly, the picnic features lots of barbecue plus local bands, a pie-eating contest, games, and awards for the parade winners. Fun for the whole family that continues until late afternoon!
Roche Harbor, at the north end of the island, gets into the act as well with their Old-Fashioned July Fourth. An early morning fun run is followed by Kids Games at the Pool Lawn. Then a not-to-be-missed event – the Doughnut Eating Contest on the West Lawn from 12:30 p.m. – 2:30 p.m. Kids, teens, and adults try to eat from 3 to 7 donuts (that are driven to the contest tables in wheelbarrows) and washed down with milk…a real crowd pleaser! At 3:30 p.m., the Blindfolded Dinghy Race happens followed by a quintessential Northwest event- the Log Rolling Contest at 4:00 p.m. And if you can't drag yourself back to town late in the day, Roche has fireworks in the marina at 10:30 p.m.
Grab a picnic or barbecue your dinner (or make a reservation for dinner at one of the many wonderful Friday Harbor restaurants – see our favorites here at Lakedale's Favorite Friday Harbor Restaurants). Then head down to the Port of Friday Harbor for lively music by a local group, The Camillions, until the fireworks begin at dusk, usually around 10:00 p.m.
There's nothing more magical than remembering the glitter of fireworks over the water as you nod off in your comfy Lakedale bed or campsite…wishing July 4th came a little more often.
After nearly eight months of hibernation, the sun has started to show its face and summer is nearly upon us!  Brighter, longer, and warmer days can only mean one thing: It's camping time!  Around the globe, especially in the Pacific Northwest, a wide range of people enjoy being outdoors, away from the trappings and comforts of their regular, daily routine.  Naturally, that wide range is accompanied by an equally wide range of experience and "camping savvy".  Here at Lakedale we play host to everyone, from the first time camper to the hardcore enthusiast, so we thought it would be fun to put together a quick list of tips, tricks and hacks that just might make the camping experience even more enjoyable!
Campfire tips
There are usually quite a lot of small pine cones, small twigs and leaves around the campsites at Lakedale that you can use for kindling, but if you're having trouble getting your campfire started, we've got a few tricks for you.
Instead of throwing them in the trash, save all that lint that comes out of your dryer, and all those cardboard toilet paper rolls.  If you loosely stuff the lint into toilet paper tubes, they make fantastic fire starters!  Just make sure you don't pack the lint too tightly, otherwise it will have trouble staying lit.
Are you the type of person that carries hand sanitizer everywhere you go?  If you are, then you'll probably never have a big problem getting a fire going.  Most anti-bacterial hand sanitizers are very flammable, and the gel will burn solidly for at least a few minutes.  Put a few pumps onto some paper, or pine cones and your firewood, and you'll have a nice…germ-free…campfire in no time!
Did you bring a ton of junk food, but nothing to start your fire with?  Never fear!  Most corn chips (Doritos and the crunchy Cheetos are our personal favorites) make great kindling.  Seriously!  Dump out some Doritos into the center of your fire ring, light them up and let them do the rest.  Of course, you can use the rest of the bag to make nachos once your fire is going!
The Fantastic Flexibility of the common Frisbee!
Douglas Adams (author of the "Hitchhiker's Guide to the Galaxy") believes that the towel is the most useful thing in the universe, but we disagree.  We think that the Frisbee is the most useful device ever
invented…especially for camping trips.  You can use the top side as a cutting board when you're cooking dinner.  Flip it over when dinner is cooked, and you've got a plate (or a bowl if you're eating soup or things with sauces because the lip is so deep).  If you're out on the water and you lose your paddle, Frisbees make great replacements to get you back to shore.  Frisbees also make surprisingly good shovels or rakes when you need to do some digging or flattening out a spot for your tent.  Of course, we wouldn't want to skip over the hours of fun that can be had if you use a Frisbee for its originally intended purpose.  Never go camping without one!
Duct Tape.  Duct Tape Everywhere.
Second only to the Frisbee, in terms of flexibility and usefulness, is a few feet of duct tape.  We could go on for hours listing all the challenges that can be solved with a little duct tape.  Any number of emergency repair jobs can be done quickly with duct tape, and you can get it in about six million different colors and designs so your repair jobs can be aesthetically pleasing to boot.  Speaking of boots, duct tape works wonders to combat blisters if you're doing a lot of hiking and you're in a bind.  The only problem is that full rolls of duct tape can be pretty heavy and take up a lot of space in a pack.  So, here's the tip: wrap several feet of duct tape tightly around your nalgene (water bottle), or one of your tent poles.  You can even tear the tape lengthwise and wrap it around smaller objects like lighters or flashlights.  Now you've got plenty of the good fix it stuff, without having to lug around a full roll!
Quick water bottle/canteen clean
Everyone knows that you bring a canteen or a water bottle with you when you go camping or hiking.  Everyone also knows that it's pretty easy for canteens and water bottles to develop unpleasant odors and tastes, especially if they aren't stored properly between uses.  If you're out camping, you may not have the facilities available, or the time, to properly soak your water bottle in soapy water over night.  The quick and easy fix is to fill the bottle with water, add 2 or 3 teaspoons of baking soda, give it a good shake and let it sit for about an hour.  Rinse it out…no more odors or tastes!  You wrapped that bottle in a few feet of duct tape, right?  Good, you're all set!
More fun stuff with water containers
Now that we've covered the fact that we need water when we're camping, let's use water for a couple of things before we drink it all.  And, we're still on the multi-purpose train, right?  Instead of using bags of ice to keep  your food and beverages cold, freeze a few jugs full of water, then pack them in your cooler for the same effect.  Loose ice in a cooler is pretty much useless after it melts, but when the ice melts inside of a jug, it's still perfect for drinking, cooking or washing!  If you're worried about weight or portability, use several smaller bottles instead of jugs.  When the ice in your gallon jug melts,  take them out and turn them into lanterns.  Yes.  If you have a headlamp with an elastic band, simply put it around the water jug with the light facing inward toward the water, turn it on…BOOM…you now have a lantern that will illuminate your entire tent!
Easy Camping Coffee
We don't like to do anything without coffee here at Lakedale.  Remember "No Coffee, No Workee"?  We also
say "No Coffee, No Campy"!  If you don't have space, or you don't want to lug around a percolator to make coffee, we've got a neat solution for you.  Place a couple of tablespoons of coffee in a standard coffee filter, tie it off with some dental floss, and you've got coffee bags.  Boil some water at your campsite, and steep just like you would with a tea bag.  Now, it might not come out as strong as your favorite espresso drink, but it will definitely tide you over long enough to make the short walk down to our General Store for a Cappuccino or a Latte!
If the bugs start to bug you 
When you camp in the woods, you're going to be faced with an environment that is starkly different than your living room at home.  Outdoor environments are home to all sorts of wildlife, critters and insects.  While we are very fortunate here at Lakedale in that we don't typically have many issues with insects (thanks to our healthy population of birds, bats and fish), we still have bees and wasps that make their homes here, as well as the occasional mosquito.  If you're really concerned, and you don't feel like coating yourself with bug spray, try burning some sage in your campfire in the mornings and evenings.  Sage is a natural deterrent to all manner of flying insects, and they usually steer clear of burning sage.  Also, for the love of all that is good in the universe, don't set up a bee or wasp trap on your picnic table, or hang them in the trees in your campsite.  Traps will actually attract insects, bringing the bugs right into the place that you don't want them: where you are!
Beat the Burn Ban!
From time to time, for safety reasons, the State of Washington will declare a ban on all recreational fires.  A burn ban makes it illegal to burn wood and paper products, which can put a real damper on things if you were planning on roasting S'mores over a nice campfire.  We usually get no advanced notice before a burn ban, and the fire marshal will never give the duration for a ban.  Charcoal is usually ok to burn and it's great for
cooking, even if a burn ban is in effect, but you don't get the same type of ambiance from a charcoal fire that you do from a wood fire.  Enter the portable propane fire pit.  Propane powered fire pits look and feel quite similar to wood campfires, and they are perfectly legal to use, even during a burn ban!  There are quite a range of products under $100 on the market, and we think they make a great investment if you still want to roast hot dogs and S'mores over a flame during those dry months that have a much higher risk of being affected by a burn ban.
We love the outdoors at Lakedale, and we love people who love the outdoors!  We hope that some of these tips and tricks can help make your next outdoor adventure a little more fun.  We'll see you soon!
It's summer time and glamping season is here! Our Canvas Cabins and Canvas Cottages have been spruced up after the long winter, comfy beds are freshly made and are waiting for your arrival. Our new Yurt village is getting its final touches right now –  we're installing furniture this upcoming week in anticipation of our June 15 opening date! So we thought this would be a great time to give you our 7 reasons why glamping in the Pacific Northwest is probably the most legal fun you can possibly have this summer.
1. If I had to give you just one, and only one reason (instead of the 7 that we're advertising), it would have to be getting an impossibly good night's sleep in the great outdoors. Think pillow-top mattress covered with a cozy flannel duvet-cover and the sounds of frogs croaking outside your screened door. And maybe the best part of all is no tent set-up, no pumping up that air mattress, and no musty old sleeping bag to have to crawl into. Sheer bliss.
2. Wherever you glamp in the Pacific Northwest, you're bound to find some pretty amazing scenery and awe inspiring surroundings. Some glampsites will have lakes or forests (like ours), some mountain views, and some glimpses of the ocean, but half the fun of glamping is waking up and going to sleep with a different vista than your normal one. And the Northwest and San Juan Islands have more than their share of views to enthrall you.
3. There are a few factors that give the Northwest it's lush, green, verdant beauty – yes, we do get some rain. Hence another great reason to glamp – shelter from the storm! Imagine waking up with the pitter-patter of rain atop your Canvas Cottage, knowing you can spend the day inside with your favorite folks, playing gin rummy or a board game, or just sleeping the day away – without being drenched. All the rain and none of the pain.
4. With so much changing in the environment, one of the things we love about glamping is that it's a very eco-friendly way to travel. With a smaller footprint on the land, no massive resort complex required to support the lodging, and simpler forms of heating and electricity than a typical hotel room, glamping immerses you in a low-impact nature experience, while also protecting good old Mother Earth.
5. Everybody has a budget, whether large or small, and another advantage of going glamping is that there is a glamorous camping experience for every budget along with all the bells and whistles to match. From a basic camping set-up (ours is called Camp E-Z and includes a tent, canopy, 2 camp chairs, and 2 cots, all set up at a campsite for you, and for only $45/night on top of your campsite fee) to glamping units with no bathrooms, tents with full private bathrooms, yurts with hot tubs, tree-houses, or luxury glamping resorts with personal concierges, massages, and expeditions included. Go low or go high, whatever you can afford!
6. Is there anything better than a campfire? that smoky smell (and having it in your hair the next day)? the crackling flames of the fire sparkling into the dark night? The ooey-gooeyness of marshmallows after you've cooked them and made a s'more or five? Campfires and singing and cook-outs – all part of glamping life!
7. And last, but not least, at Lakedale anyway, the delicious arrival of Toasty Toes! Every night, when you stay in our Canvas Cabins or Cottages, we deliver fleece-covered hot water bottles for you to place in the bottom of your (plush, pillow-topped) bed to keep your toes warm all night long. Sweet glamping dreams, everyone!
Whether you stay with us in one of our many glamping options, or at a glamping site elsewhere in the Pacific Northwest, we pretty much guarantee glamping will make you want to come running back for more! Check out our reservations page to get an idea of what we offer for your glamping escapades! Glamping Reservations
I have a confession to make, I'm a closet wedding stalker. There…it's out. Whenever there's a wedding at Lakedale, I'm running around with a camera, taking photos of every detail, from the guests checking in, to preparations for the rehearsal dinner on the lodge deck, to the MAIN EVENT, the wedding and reception. Is the excitement of a wedding the anticipation of two families joining, or seeing what the flowers and decorations will look like, or the "aha" moment when the bride walks down the aisle and unveils THE dress? All of the above, and luckily for me, we have weddings all year at Lakedale for me to indulge in!
Spring
While many bridal couples fall into the summer wedding camp, spring is a perfect time to beat the crowded wedding season and glory in the freshness of April and May. Our Wedding Point, located across Neva Lake from the lodge, is always a brilliant, verdant shade of green in spring. Many couples opt to either row a boat over to or back from the Point for their ceremony and then have the reception and dancing in the Great Room of the lodge or deck, with fireplaces roaring. We've even had couples elope and get married in our glamping cabins at this time of year.
Summer
June, July and August are the wedding traditional months. Couples can usually count on great weather in the San Juan Islands (read: no rain), numerous options for ceremonies and receptions on Lakedale's 82 private acres, and time for family members to enjoy not only your wedding, but spend some vacation time exploring the beauty of the Pacific Northwest. A typical summer wedding might include a wedding ceremony on the Point, with guests walking through our forested property to the Meadow for the reception. In summer, the Meadow is often blanketed in tiny white daisies. (We're also happy to give grandma and grandpa a lift in a golf cart!) We string outdoor lights over the meadow, so you can dine, dance and party under the stars. And this year, we've added long farmhouse tables and benches to our wedding options, for that farm-to-table experience.
Fall
Fall could just possibly be my favorite season to watch weddings. September and October still have wonderfully warm weather, our trees and grasses are starting to turn golden, and there is a calm to the resort after the energy of summer. One of my favorite weddings used the entire resort for their destination wedding (for 400 family and friends) and strung 200 hand-made dream catchers throughout the resort. The rehearsal dinner was on the lodge deck overlooking Neva Lake, the ceremony in the Meadow, and the wedding reception rocked all night in a meadow near our glamping cottages. This couple really made Lakedale their own for their special day.
Winter
And then the quiet season…if you want an intimate, very romantic and very cost effective wedding, winter at Lakedale is it. Whatever the weather, the lodge creates a dreamy ambiance with its stunning log Great Room,  stone fireplace and enchanting lake view. One creative couple married in February, and anticipating wet weather, provided all their guests with personalized rain boots, umbrellas, and a covered tent for the reception. They ended up with a gorgeous sunny day and had a great time dancing in their boots!
Whatever your season, if you're a nature lover and are looking for a wedding venue that doesn't involve a hotel banquet room, Lakedale could be your place. We have a fantastic team ready to help you with planning the day of your dreams! Take a peek at our website for more details (https://www.lakedale.com/wedding-and-receptions/) or click on this link to see photos of weddings we've hosted at every time of year…I may even be the one peeking out from behind the tree!
http://www.blurb.com/books/6628500-weddings-at-lakedale-resort
Here at Lakedale Resort, we are very excited to welcome our newest addition to our collection: The Yurt Village!
Early in Spring, we're still in the construction phase of our new village, but we wanted to give our fans a preview of these new accommodations, as well as a peek into the thought process that went into our decision to build Yurts, and how they fit into our already dynamic culture here at the resort.
Here we go!
A Brief History of the Yurt
The history of the Yurt can be traced back thousands of years to nearly six centuries before the Common Era. The first recorded mention of a yurt comes from the Greek historian Herodotus, in his writing about the Scythian horse lords that roamed near the Black and Caspian Seas. Marco Polo, during his travels across the world's largest continent, recorded the yurt's extensive use among the nomadic Mongolian people of Central Asia. He noticed their sturdy, round tents made of rods and felt that could be easily assembled and disassembled, then loaded onto carts whenever movement was necessary.
While most people conjure images of the most basic and simple dwellings when they think of yurts, some yurts were much more than basic and simple. Genghis Khan, the founder of the Mongolian Empire, still the largest empire in human history, was rumored to have lived in a massive, luxurious yurt that was mounted on wheels, and pulled from place to place by 22 oxen. If you were a herder, or an emperor, a yurt was what you called home. No, seriously, the word "yurt" (or "ger" in Mongolian) literally means "home".
Lakedale Reinvents the Yurt
When it came time for Lakedale to get on the right side of history and build our own yurts, we spent a lot of time reimagining the concept.
We wanted to keep the feel of the classic yurt while adding amenities that our guests would enjoy, or have come to expect in the modern world. As with our Canvas Cabins and Cottages, we once again reached out to Rainier Industries for help.
Our vision was manifested in the form of seven, 24-foot yurts, each surrounded by its own large deck. On each of those decks, our guests will enjoy tables and chairs, a BBQ grill, and their own personal hot tub! Inside, each yurt is furnished with a King bed, a Queen sofa-sleeper, a wet bar with refrigerator, and of course, a full bathroom.
We decided to take the fusion of the old and the new even one step further, so we added complimentary WiFi, a VOIP phone, and a 50" Smart TV, so guests can still feel connected
while they disconnect. We didn't run cable or satellite to the TV's, so our guests won't be tempted to sit in
front of the tube all day, and will still enjoy the activities that Lakedale and the rest of San Juan Island have to offer.
And don't worry, unlike their historical predecessors, Lakedale's yurts won't require their inhabitants to disassemble them at the conclusion of their stay!
The Yurt Reinvents Lakedale
Lakedale has been evolving for over a decade now. Throughout this evolution, however, one idea has remained virtually unchanged: Taking a break and disconnecting are good!
We've come to realize that these things can mean completely different things to different people. Whether it's camping or glamping to get away from the daily grind, getting together with friends and family in a Log Cabin, or spending a romantic weekend in the Lodge with that special someone, we've always had a lot of the bases covered.
The addition of the Yurt Village represents the newest branch on Lakedale's evolutionary tree: Disconnecting from daily life without disconnecting from the world! We're giving our guests the ability to choose the form of taking a break that suits them best. So, whether you're an accountant, a school teacher, a firefighter, or a conquering emperor…we've got your vacation plans covered. (Although we may require advanced reservations to accommodate your conquering horde!)
Remember that the word "yurt" means "home"? Welcome to Lakedale Resort, your Yurt away from Yurt!
With all the fantastic outdoor activities in the San Juan Islands, our guests are always surprised by the number of great "intellectual" activities we offer too! When that rainy day arrives and you need somewhere new to explore, here are some of our favorite suggestions!
San Juan Island
The San Juan Historical Society and Museum is located on the old King Farm, which was homesteaded in the 1880's, an easy walk from the ferry. The original farmhouse, and carriage house, along with a pioneer log cabin, barn and other out buildings are on exhibit as well as a great collection of island artifacts and photographs. Special events occur year-round with the favorites being the July 4th Pig War Picnic, the Music on the Lawn Summer Concert series and an Old-Fashioned Christmas Celebration.
323 and 405 Price St., Friday Harbor      phone: 360.378.3949
The Whale Museum in Friday Harbor is one of those "don't miss" island places, even if the kids aren't with you. The Southern Resident pods of the endangered Orca killer whales live here in our back yard and the Whale Museum is dedicated to their stewardship…the first museum in the country devoted to a species living in the wild. The museum offers courses on becoming a marine Naturalist, has a Whale Hotline for orca sightings, and you can even adopt a whale to support their educational programs!
62 First Street, Friday Harbor     phone: 360.378.4710
Being art fans, we love the new San Juan Islands Museum of Art, which showcases art and artists from around the world (think…Ai Weiwei) in an impressive contemporary structure. The museum's mission is to champion authenticity of expression, place and connections and it succeeds with rotating exhibitions of sculpture, paintings, photography, drawings and more, as well as fun educational series like the Winter Arts Workshops.
540 Spring Street, Friday Harbor    phone: 360.370.5050
Orcas Island
For more island history, Orcas-style, head to the Orcas Island Historical Museum, where you'll be wowed by six original homestead cabins (along with over 6000 artifacts) that have been reassembled to exhibit scenes of Native American and early settler life on the islands. Each cabin tells the story of a specific aspect of island history through material culture. The museum also operates the Crow Valley School Museum, built in 1888. It is recognized as one of the finest examples of an intact one-room school house in Washington and is listed on the National Register of Historic Places (open by appointment only).  181 North Beach Road, Eastsound         phone: 360.376.4849
More for you art lovers! the Lambiel Museum is a quirky collection of art by local artists from 1915 to the present, and includes the largest collection of work by Helen Loggie, one of the San Juan Island's most celebrated artists, and a large assemblage of grandfather clocks. The museum, located close to Eastsound,  is open every day by appointment and a $20 donation is requested, but for that you get an entertaining two-hour tour by Mr. Lambiel (the collector) himself and a glimpse into a unique island home, plus two architectural follies on site – a Greek Doric Temple and an underground fantastical grotto!
Phone: 360.376.4544 for appointments
Lopez Island
The Lopez Island Historical Society & Museum is in the heart of Lopez Village, and like San Juan and Orcas Island's historical museums, focuses on telling the story of Lopez island history. Lopez is an agricultural island, so the museum has exhibits on farming, fishing, and island communities. For all you genealogists, it also contains large document and photography archives to research your family history or find vintage images of your island home. The museum also creates fascinating exhibits – "Salmon is King" dove into a history of Lopez island fishing, "Brave, Bold and Beautiful Lopez Women" explored notable island women, and "Carried by Canoe" was a collection of more than 200 bone, stone, and antler Native artifacts.
28 Washburn Pl., Lopez Village     phone: 360.468.2049
I'll admit it: I'm a huge fan of the holiday season.  The music, the decorations, the lights, the food, and spending time with friends and family all come together to make this "The most wonderful time of the year"!  If you're like me, you've been caught once or twice in your life listening to those Vaughn Monroe, Andy Williams, and Bing Crosby classics in June or July.
Although, if many of the blogs, social media feeds, and news outlets are to be believed, the holidays can be an absolute nightmare.  Words like "madness", "chaos", "congestion", and "crushing crowds" are all tightly woven into the fabric of any holiday discussion these days.  "STRESS!"  Everyone seems to have their list of tips and tricks on how to "beat the holiday rush", or how to "survive the holidays".  Well, at the risk of being unoriginal, I've got a tip for dealing with the pressure of the holidays as well: Avoid the stress in the first place!
Why just survive this holiday season when you can take a breath and actually enjoy it?  While San Juan Island is known best for its abundance of summer activities, we've also perfected the recipe for winter relaxation and holiday fun!
Island Lights Festival
Don't let headlights and tail lights while being stuck in traffic dominate your holiday light experience this year.  We kick everything off in Friday Harbor on Friday, December 1st with the Island Lights Festival!  The fun starts at the Whale Museum with treats and crafts, followed by a walk to Memorial Park for hot chocolate, cookies and caroling for everyone to enjoy.  While Santa Claus is a pretty busy guy this time of year, he still makes time to come out and do his part.  Santa will light the tree, then lead everyone up to Brickworks for pictures, arts and crafts for the family, and fresh local harvest soups and apple cider!
Holiday Shopping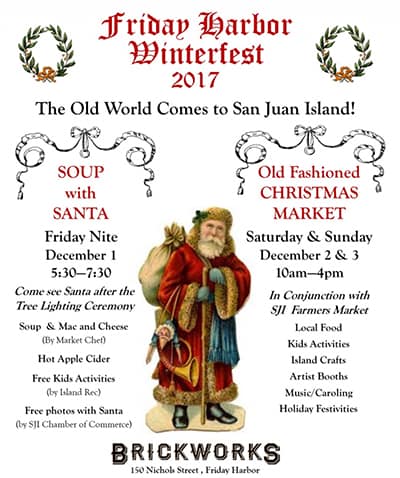 Shopping for gifts for loved ones shouldn't be a hassle, or even boring.  After the Island Lights Festival, on Saturday & Sunday, December 2nd & 3rd, Brickworks will be hosting their annual Old-Fashioned Christmas Market.  Step back in time with this European-style market featuring island crafts, local food vendors, farm produce, live holiday music, and a spirits garden.  Cookie decorating, pony rides, and visits from the Sugar Plum Fairy will ensure that the whole family has a magical time!
I really only have one rule in life: "No Coffee, No Workey".  Actually, I don't do much of anything without coffee.  Fortunately, Riptide Café, my favorite place to get a latte on the island, has people like me in mind as they get set to host their first ever Shop & Sip event.  Guests will be able to shop San Juan Island and Pacific Northwest items, including handmade goods, jewelry and clothing made by local and regional artists, all while enjoying complimentary wine and hors d'oeuvres!  Shop & Sip happens on December 13th & 14th from 4:00pm – 9:00pm, and all day on December 23rd.
New Year's Eve at Lakedale!
Now that you're so relaxed, why not cap things off with a smooth New Year's Eve party?  Lakedale Resort will be hosting its second annual New Year's Eve celebration featuring the Brian Nova Trio on December 31st, 2017.  World renowned jazz guitarist Brian Nova is back with his trio to help you start 2018 on the right foot…even if you've got two left feet like me!  The festivities start at 8:00pm with an amazing Black & White Dinner from the dynamic chef duo, Matia, from Orcas Island.  Squid Ink Brioche with Caviar, Scallop Crudo with Black Raddish, Steamed Black Cod, Short Ribs with Black Truffles and Celeriac, Black Sesame and Pears with Sweet Rice, and a Chocolate Éclair with Vanilla round out the menu, and it all gets paired with delicious Pacific Northwest wines!  Fabulous food and magical music…all in an amazing atmosphere?  I told you we've perfected the recipe, right?
Doing Absolutely Nothing at All
Of course, I can't forget about my favorite winter activity: doing absolutely nothing.  Come out and decompress from the daily grind, or that stressful holiday season if you skipped the first part of this post.  Personally, I'm a fan of books and blankets in the cold weather, but I know plenty of people who are just as happy bundling up and going outside for a nice peaceful walk in the woods.  And you know what goes best with both of those "activities"?  That's right…and my coffee mug needs a refill!
Happy Holidays Everyone!
San Juan Island is one of the most beautiful places on earth (OK, we are a little bit biased). Although we're famous for our summers, these islands are a paradise in winter, too, with plenty to see and do in our "quiet season". (And a big thanks to Pacific North Wanderers for their great photos of the Afterglow Vista Trail.)  https://www.pnwanderers.com/
Get Outside
Take a walk
If you like to stroll with the crisp, fresh smell of sea air in your lungs, you'll love exploring San Juan's parks and pathways in the winter. You can storm watch from the beach or stroll along any of the many island trails, sometimes with a fresh dusting of snow.
For a walk to enjoy the stillness of winter, choose the Afterglow Vista Trail. Only a short half mile, this spot just north of Roche Harbor winds through an abandoned cemetery to the McMillin mausoleum. The McMillin family founded Roche Harbor, and the stone table and columns that mark their remains bears the inscription, "Death breaks the column of any man's life." One column is deliberately broken.
If you want to stick a little closer to your Lakedale "home", our 82 acres of lakes, forests and meadows (with paths throughout) will give you a taste of the outdoors without having to get into your car. Come November and December, keep a lookout for the magnificent white trumpeter swans who are our repeat winter guests.
Take a hike
If you're looking for a slightly longer walk, Bell Point Loop Trail is an easy 1.8 mile loop where history and natural beauty mingle. You'll pass through historical English Camp, where the English army was stationed during the famous Pig War of 1860. There are historical markers and history buffs will have a field day here.
Climb to the top
If you feel up for a challenge and the weather permits, hike to the top of Mount Young, the base of which begins along the Bell Point Loop Trail. Mount Young is the highest point on San Juan Island at 650 ft. On the hike, you'll discover an abandoned English cemetery, grassy meadows and an old growth forest – and you'll be rewarded with a spectacular view from the top.
Other outdoor winter activity ideas: Try whale watching from shore or observing some of San Juan's other winter wildlife.
The Great Indoors
Arts appreciation
Winter is a lovely time to visit a museum—especially when they're having a major event! The San Juan Islands Museum of the Arts (SJIMA) is a gorgeous glass building that houses the work of artists from the Pacific Northwest and British Columbia across a mixture of mediums, and winter is a great time to visit.
Every winter, SJIMA hosts their annual Registry Show, which combines the multimedia art of 92 area artists. This year the theme is "Spirit Taking Form" and will be on display from December 10 to February 18th. The event is great for casual viewing, but if you haven't done all your Christmas shopping yet this could be a good opportunity for browsing and buying!
Community Theatre
San Juan Community Theater is the perfect place to cuddle up on a stormy night and take in a show. Live performances are regularly hosted here, but we recommend The MET: Live in HD. This series is broadcast in high definition straight from the stage of the Metropolitan Museum of Art. Every Saturday this winter, catch classics like La Bohème, Tosca, or Semiramide. It's a rare opportunity to combine the repertoire of New York City with the ambiance of our own little island!
Cabaret
This event actually takes place at the Orcas Center, but if you want to day trip from San Juan to Orcas Island, this cabaret is a great reason to hop on a ferry!
The annual Enchanted Forest Cabaret is a cherished local tradition and the shows keep both adults and children laughing and in suspense. This year's performance is Naughty Pirates of Neverland, in which the worlds of Peter Pan and the Pirates of the Caribbean collide. There are seven showings in January, from the 12th -14th, and again the weekend of the 18th – 21st. You'll be humming show tunes all night!
Other indoor winter activity ideas: Visit a San Juan brewery or distillery or a restaurant in Friday Harbor!
There's plenty to do both indoors and out this winter in San Juan. Join us, and experience a side of the island that only locals typically see: calm streets, still forests, and empty trails. Check out Lakedale's fall and winter specials to book a room!